Wisconsin YMCA Nearly Bars 12-Year-Old Girl From Swim Competition Over Black Lives Matter Swimsuit
The Duluth Area Family YMCA stated that a volunteer official "inappropriately barred" the young athlete over claims that the swimsuit "went against USA Swimming's policy of no political language."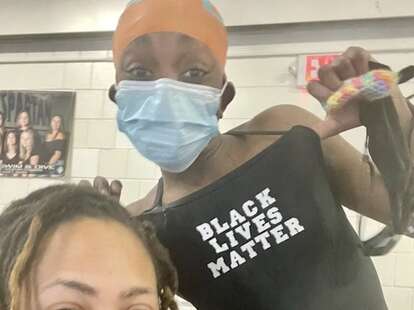 Photo Credit: NAACP Duluth / Facebook / Leidy Gallona
Photo Credit: NAACP Duluth / Facebook / Leidy Gallona
Sarah Lyons, a resident of Superior, Wisconsin, faced resistance and discrimination from an independent YMCA volunteer who attempted to block her 12-year-old daughter, Leidy, from competing in a swim meet due to her homemade Black Lives Matter swimsuit.
The Duluth Area Family YMCA, which sponsored the event at Superior High School and ultimately overruled the proposal, stated that the volunteer "inappropriately barred" the young athlete over claims that it "went against USA Swimming's policy of no political language."
The potential enforcement of the rule, however, has raised eyebrows given the perspective that the "Black Lives Matter" slogan itself is not a political statement, but rather an affirmation of the lives and humanity of Black people, and a call to end violence directed at Black citizens across America.
In an interview with KBJR News, Lyons said her daughter wanted to wear the swimsuit after learning about the death of 22-year-old Amir Locke, who was fatally shot by police who entered his residence using a no-knock warrant. Lyons added that she supported her daughter's decision to not take the swimsuit off.
"She is very passionate about social justice. She has been through a lot already at a young age. It's a big part of her, which I think is wild at 12," Lyons said.
After disqualifying the official who attempted to ban Lyons' daughter from future competitions, the Duluth YMCA issued a statement, writing, "The Duluth YMCA is saddened that the student, their family, and teammates had to endure this unacceptable behavior. The Duluth YMCA will continue our ongoing commitment to train all staff and volunteers on diversity, equity, and inclusion."