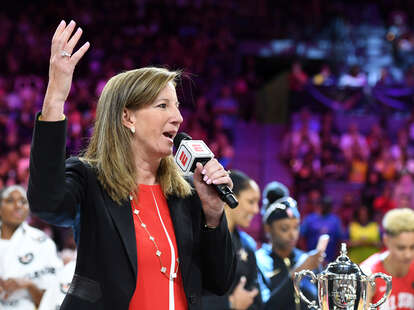 WNBA Commissioner Cathy Engelbert speaks on the court after the WNBA All-Star Game 2019 | Getty Images
WNBA Commissioner Cathy Engelbert speaks on the court after the WNBA All-Star Game 2019 | Getty Images
The Women's National Basketball Association (WNBA) and its players' union have agreed to a new contract that will increase players' pay by 53% and provide additional performance bonuses and benefits.
WNBA Commissioner Cathy Engelbert announced the tentative new deal Tuesday on Good Morning America. Starting with the 2020 season, the eight-year collective bargaining agreement would include a tripling of top players' pay, plus health and wellness benefits and other additional incentives.
The proposed WNBA contract must reportedly still be approved by the league's board of governors and the union's membership. The new investment is valued at nearly $1 million per team per season, according to the New York Times.
The move comes at a time when women around the world are demanding fairer pay and benefits at work, and as women athletes in sports including soccer, hockey, and tennis have spoken out about disparities in compensation and gender discrimination.
"We are going to be providing a platform around health and wellness, and really… redefining what it means to be a professional women's athlete, a mom," Engelbert said on Good Morning America. "We have entrepreneurs in the league… It's really just going to be a great platform for us."
Beginning in the 2020 season, the average cash compensation for players will exceed six figures, at nearly $130,000, for the first time in WNBA history. Other potential benefits will include paid maternity leave, accommodations for nursing, and a child care stipend; individual hotel rooms for traveling players; and additional mental health benefits and resources. Top players will be able to earn compensation exceeding $500,000 under the agreement, and bonuses for performance awards such as WNBA MVP and Rookie of the Year will also increase.
The conversation about women's pay in sports is continuing to emerge as more players speak out.
In 2019, the U.S. Women's National Team won a gender discrimination lawsuit against the U.S. Soccer Federation — months after a widely watched 2019 FIFA Women's World Cup win. The players alleged that women are paid $31,250 less than men for making the World Cup. In a Deadspin piece, every member of the USMNT either declined to comment or provided no comment on pay inequity in soccer.