WNBA's Maya Moore Helps Release Jonathan Irons From 20+ Years In Prison
Irons spent over two decades behind bars for a crime he insisted he was misidentified for.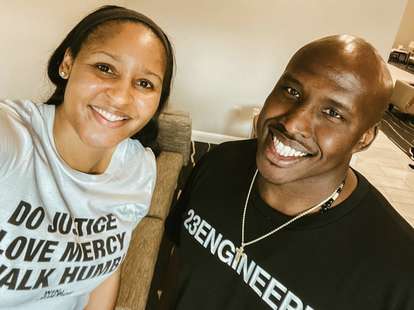 Instagram/ mooremaya – Moore and Irons
WNBA star Maya Moore put her basketball career on hold to help get justice for Jonathan Irons, who was incarcerated in Missouri for decades. She succeeded and watched him walk free on Wednesday.
Moore, a four-time champion, Olympic gold medalist, and MVP, put her career with the Minnesota Lynx on hold in 2019 to help overturn Irons' conviction along with his legal team. Irons, 40, was serving a 50-year prison sentence for burglary and assault with a weapon – crimes he insisted he was misidentified for committing.
On Wednesday, Moore captured the moment Irons was finally released from the Jefferson City Correctional Center in Missouri.
According to a Good Morning America report, Moore, 31, formed a friendship with Irons in 2007 when she met him through a prison ministry that her extended family in Missouri participated in. She then learned more about his case and the holes in his conviction and began working with his legal team.
"Until Maya Moore got involved, [Irons] just really didn't have the resources to either hire counsel or hire investigators," Irons' attorney Kent Gipson told ESPN's Katie Barnes. "It's big to sacrifice a year of your career in your prime to do that."
Irons was 16 years old when the crime for which he was convicted occurred, and was later tried as an adult by an all-white jury. He was convicted at age 18 and sentenced to 50 years in prison.
But in March, Judge Daniel Green overturned Iron's charges and ordered his release from the maximum security prison where he had been behind bars for over two decades. The decision was based on fingerprint evidence, which did not belong to Irons, and was not divulged in Iron's initial trial. Gipson argued that the state withheld the evidence, which could have shown someone else had committed the crime.
After Missouri's Attorney General Eric Schmitt made a series of failed appeals for the case, St. Charles County lead prosecutor Tim Lohmar declined to retry the case on Wednesday afternoon, thus freeing Irons.
"In that moment I just -- I really felt like I could rest," Moore said on "Good Morning America." "I mean I've been standing and we've been standing for so long -- it was an unplanned moment where I just felt relief ... it was kind of a worshipful moment just dropping to my knees and being so thankful that we made it."