"Women Are Going To Decide This Election": Women's March Returns This Month To Focus On SCOTUS & Voting
The annual Women's March is returning three months early, and organizers are focused on getting people to the polls and making a statement to GOP leaders.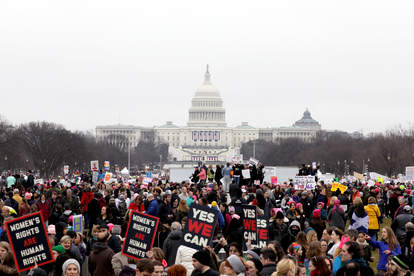 It's been three years since hundreds of thousands of people crowded the streets of Washington D.C. and cities around the world wearing memorable "pussy" hats and holding protest signs as part of the first annual Women's March. The massive demonstration attracted celebrities and leaders worldwide the day after Donald Trump's inauguration.
On October 17, women and allies are set to reconvene once more — either virtually or in person, in accordance with COVID-19 precautions — to march through the nation's capital and in hundreds of other locations. The sentiment hasn't changed much since 2017; women want Trump out of the office and organizers are guiding the way.
In addition to this January's march, organizers were motivated to hold an event in October after the recent death of legendary Supreme Court Justice Ruth Bader Ginsburg, a champion of women's rights and equality, and the subsequent political fight to replace her. (The late Ginsburg's iconic quotes and image have been used on plenty of Women's March signs over the years.)
After President Donald Trump and Senate GOP leaders immediately pushed for the confirmation of a conservative nominee, Judge Amy Coney Barrett, to the court, the organizers knew that women everywhere were fed up.
"We are not going to allow the Senate Republicans to continue this just frankly brazen disregard for human life," Women's March Executive Director, Rachel O'Leary Carmona told NowThis. "Our democracy is being undermined, and we are going to respond to that."
Carmona said the main goal of the Women's March is to make sure women voters cast their ballots for the 2020 election. According to an analysis of Census Bureau data from the Pew Research Center, women have voted in higher numbers than men in every U.S. presidential election since 1984.
"Women are the driving force in American politics and women are going to decide this election," Carmona continued. "I think that women are already fired up to defeat Trump, the stakes are higher."
Organizers said 245 events are scheduled in 46 states for the upcoming march, and more than 100,000 people have so far RSVP'd to an event.
October's march will look slightly different this year due to safety precautions in the wake of the ongoing COVID-19 pandemic. Organizers said that personal protective equipment will be available at each event, marchers and volunteers will be required to wear masks, and adherence to social distancing will be monitored throughout the events.
Carmona added that some marches will be held inside cars or golf carts, while some attendees can watch the march virtually.

Why Is This Year Different?
Since its inception in 2017, organizers said that each Women's March has had its purpose. Carmona said the first march in 2017 was more of a grassroots effort to make a statement following the inauguration of President Trump. The 2018 version was focused on the midterm elections, 2019 was about policy reform, and 2020 is a culmination of them all.
This October, the Women's March is putting its demonstrators to work by asking participants to volunteer at a text bank to contact people and make sure they have a plan to vote.
"When you think about a march — you know the pictures that you've seen — it's always people marching with a sign in one hand and their phone in the other. And so what we thought is, 'okay, how can we capitalize on that?'" Carmona said.
At the main march in Washington D.C., participants will make their way to the National Mall where a text bank area will be set up. Virtual marchers can also take part in the text bank from home.
As of Tuesday, volunteers have already sent and received more than 3 million texts to voters.
Focusing On Intersectionality
In the past, the Women's March
has been criticized
by Black activists and writers who claim the march hasn't been inclusive of women of color and has drawn mostly white attendees.
After an historic summer of worldwide Black Lives Matter demonstrations against systemic racism and rampant police violence, the Women's March said it has channeled its wide-reaching activism to ensure intersectional feminism is a part of the agenda. The organization launched the Feminist Futures Political Education series this summer after women of color expressed interest in building a "multiracial coalition" in the wake of the protests.
"We had tens of thousands of people coming in to really learn about what intersectional feminism looks like when it's lived, versus when it's theorized online," Carmona said. "That's part of a broader scope of work that we've had since the very beginning."
On its website, the Women's March has called for defunding the police and has publicly demanded justice for Breonna Taylor, George Floyd, Jacob Blake, and other victims of police violence.

The Last Push Before The Election
With the election looming, Carmona said the Women's March is working as "air traffic controllers" by directing support, expertise, and resources to get women engaged. She added that the organizers are there to "be what women need in a myriad of crises."
"We, together, are absolutely enough to get this done," Carmona said. "So it's time to stand together for this last push and to count on us to say, 'we have the power and we're gonna do this.'"