Women Are More Likely Than Men To Wear Masks & Social Distance, Study Finds
Experts have been tying masculinity to mask-wearing (or avoidance of mask-wearing) throughout the pandemic, and now a new study concludes that women are more likely than men to follow recommended public health guidelines.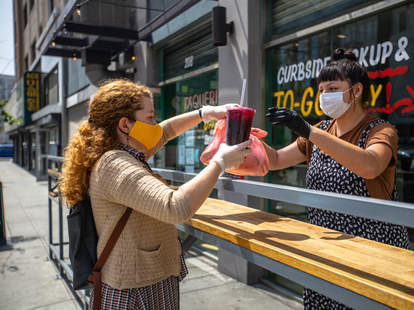 Women are more likely than men to engage in practices proven to prevent the spread of illnesses such as COVID-19, new results from multiple studies suggests.
Research published in the journal "Behavioral Science & Policy" in early October found that women engaged in advised public health practices such as social distancing, handwashing, and mask wearing more than men. 
Researchers at New York University and Yale University based their conclusion on three separate studies — the first was based on a survey of 800 people from the United States; the second used observations of individuals in New York City, New Haven, Connecticut, and New Brunswick, New Jersey during the pandemic; and the third used anonymous county-level GPS data from approximately 15 million smartphones around the U.S.
In the first study, women reported "a greater degree" of social distancing and handwashing. In the second study, a greater percentage of women were observed wearing masks. In the third study, counties with greater percentages of women "exhibited greater social distancing."
The study's authors predicted that this would be the case, based on"previous work on gender differences in preventive behavior."
The research also explored how political orientation factored into the gender differences but found that the effect of gender distribution on reduced physical distancing over time "did not substantially decrease" when the counties' voting records and percentages were accounted for.
However, it did note in the first study that men in the survey sample were more conservative than women, and when they controlled for political conservatism, "the effect size of many of the observed findings decreased by between 43% and 6%, although the results remained significant in most cases."
Researchers concluded that, "Some latent factor underlying male gender and conservatism may have influenced our results," and that, in the future, researchers should test "psychological constructs related to both maleness and conservatism — for instance, a greater sense of power, more assertiveness, or greater feelings of autonomy and independence — help explain the observed gender differences."
Some conservative politicians have had a complicated relationship between mask wearing and masculinity during the pandemic.
President Trump, who refused to wear a mask for months and said he tested positive for COVID-19 ten days ago, asserted with an apparent air of machismo, that people shouldn't let it "dominate" their lives.
Conservative commentator Tomi Lahren also recently mocked Biden for sharing an ad chiding the president for not wearing a mask, saying "Might as well carry a purse with that mask, Joe."
According to The New York Times, "some experts who study masculinity and public health say the perception that wearing masks and following social distancing guidelines are unmanly has carried a destructive cost." Reporter Daniel Victor noted that "the virus has infected more men than women and killed far more of them."