The World Just Had Its Worst-Ever COVID-19 Spike, With Brazil & U.S. Leading The Pack
"We do not believe that this is a testing phenomenon … The virus is now very well established at global level."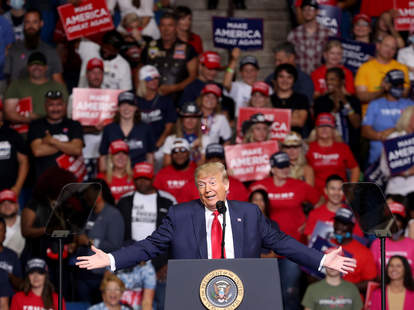 As all 50 U.S. states have eased restrictions and countries around the world reopen, a record-setting spike in coronavirus cases proves the pandemic is far from over.
The World Health Organization said that more than 183,000 new COVID-19 cases were reported on Sunday, marking the largest single-day increase in cases since the pandemic started.
About 9 million people have been infected with the coronavirus, which has left more than 469,000 people dead, according to the Johns Hopkins University tracker and WHO. 
The U.S. has the highest number of cases and deaths in the world, followed by Brazil. On Sunday, Brazil reported more than 54,700 new cases, and the U.S. reported more than 36,600 cases, according to WHO data.
"All countries are facing a delicate balance, between protecting their people, while minimizing the social and economic damage," Director-General Tedros Adhanom Ghebreyesus said on Monday. "It's not a choice between lives and livelihoods. Countries can do both."
He added: "We urge countries to be careful and creative in finding solutions that enable people to stay safe while getting on with their lives."
At his campaign rally in Tulsa on Saturday, President Trump suggested that increased testing has influenced the higher case counts, which swiftly drew criticism.  (A White House official has said he was joking about slowing down testing.) The comments echoed those of VP Mike Pence, who leads the coronavirus task force and recently undercut coronavirus "second wave" concerns in a Wall Street Journal op-ed. After the op-ed was published, medical professionals noted that the U.S. is still in its first wave of the virus. 
Dr. Michael Ryan, the executive director for the WHO Health Emergencies Programme, said during a WHO briefing Monday that the increasing number of cases is not "a testing phenomenon."
"The virus is now very well established at global level," Ryan said, adding that the virus "is definitely accelerating in a number of countries with larger populations, and that is most certainly contributing to this overall increased number."
As Trump touted a fast recovery for the economy this spring amid a looming recession, the nation's leading public health expert Dr. Anthony Fauci warned of "needless suffering and death" if the country reopened too quickly.
The latest increase in cases comes as countries around the world have gradually reopened. More than 20 U.S. states, including Florida, Texas, and Arizona, have reported coronavirus case spikes since reopening as crowds flock to bars, restaurants, and businesses. Florida saw its largest one-day case count at more than 4,000 on Saturday, according to the state's health department data cited by local outlet WESH.
Meanwhile in New York, which was hard hit by the virus this spring, more businesses are reopening as New York City, the site of one of the country's deadliest outbreaks, enters its "phase two" of reopening.
Gov. Andrew Cuomo (D) pointed on Monday to the state's drastic drop in hospitalizations and said the state had less than "1% transmission rate" on Sunday, per testing data.
According to Rt.live, a website that uses public data to measure the growth rate of COVID-19 by state, New York's transmission rate is about .84.If the rate is above 1.0, the virus will spread quickly, but when the rate "is below 1.0, the virus will stop spreading," according to the site.
"I would consider states with the highest transmission rate, that if somebody comes from that state to New York... they quarantine themselves to make sure they are not spreading it," Cuomo said on CNN, alluding to the states with spiking case numbers.