Wuhan, Epicenter of Coronavirus, Eases Restrictions as Cases Decrease
The Hubei Province, the epicenter of the pandemic, has seen almost no new cases for nearly a week.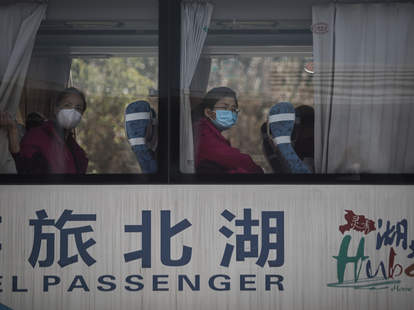 Local Chinese officials plan to lift the strict lockdown rules in the city of Wuhan, the epicenter of the novel coronavirus, that were in place since January .
The Hubei Province, where Wuhan is the capital, will allow travel starting March 25, according to an announcement by Hubei provincial officials. Starting April 8, Wuhan will lift its ban on traveling in or out of the city for people who are healthy.
The city of Wuhan's strict measures kept its nearly 11 million people contained since late January, cancelling trains and flights and setting up checkpoints. The rest of the Hubei province, which has approximately 60 million people, later adopted similar mandates as the virus rapidly spread.
The announcement on March 24 added that colleges, primary schools, secondary vocational schools, technical colleges, and kindergartens would remain closed. Businesses will begin to reopen based on their own risk assessment, and public transportation will slowly resume, the announcement said.
Residents will be able to go back to work if they have passed the health check and received a "green" QR code on their phones and get a letter of permission from their employer.
The first public cases of coronavirus were detected in Wuhan in December. As of Monday, more than 67,000 cases and more than 3,100 deaths from COVID-19 have been reported in the Hubei Province.
The number of infections has dramatically decreased, with zero new cases reported for five consecutive days since March 19. On Tuesday, only one COVID-19 case was confirmed.
World Health Organization Director-General Dr. Tedros Adhanom Ghebreyesus said on March 9 that of the 80,000 then-detected cases in China, more than 70% of patients had recovered and been discharged.
Wuhan's strict measures have been followed by similar restrictions around the world as governments implement mandatory business shutdowns and closures with the spread of the virus escalating.
Parts of the United States including New York and California announced strict rules, closing all nonessential businesses and instructing people to stay inside with exceptions for groceries, medication, or medical emergencies. The prime minister of the UK announced on Monday that the country would be placed on lockdown, while India's government made a similar announcement on Tuesday.