Wuhan Plans To Test All Of Its 11 Million Residents For Coronavirus
The newly announced plan comes after the city's first cluster of new cases since it ended its 76-day lockdown last month.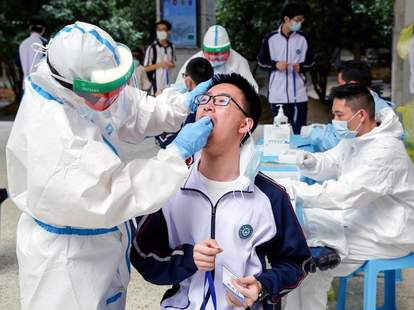 Getty Images / A student receives testing in Wuhan.
Wuhan plans to test millions of residents for the coronavirus after several new cases were reported in the city.
Chinese health officials reported six new COVID-19 cases over the weekend in Wuhan, the capital of China's Hubei province and the epicenter of the virus. Prior to the new cluster, the city had reported no new cases since lifting a 76-day lockdown last month.
In response, Wuhan is planning to conduct city-wide testing for the virus over a 10-day period, according to a state-owned tabloid.
Health officials cited in the Global Times said all of the new cases were reported within the same residential compound. A hospital director also said testing would be expensive, so it would likely first be available to people at greater risk, such as those who came in contact with patients, medical staff, the elderly, and anyone with pre-existing conditions. 
According to an internal document as well as two unnamed sources cited by Reuters, every district in Wuhan was asked to submit a detailed plan for testing its residents by Tuesday. 
Citing the Yicai financial news site, The Washington Post reported that 1 million residents in the city have been tested as of Tuesday. The Post also reported that all 5,000 residents of the compound where the new cases were reported have been ordered to get tested to screen for the virus. 
On Monday, just one new case was reported across China, according to the National Health Commission. However, the country has been under scrutiny following reports that it significantly underreported the extent of the virus' outbreak around the country, including in the Hubei province. (China's foreign ministry spokesperson has rejected a prominent allegation from the U.S. that Beijing concealed the extent of its outbreak.)
As of Tuesday, more than 4.2 million coronavirus cases have been confirmed worldwide, including over 290,000 deaths, according to the Johns Hopkins University tracker.