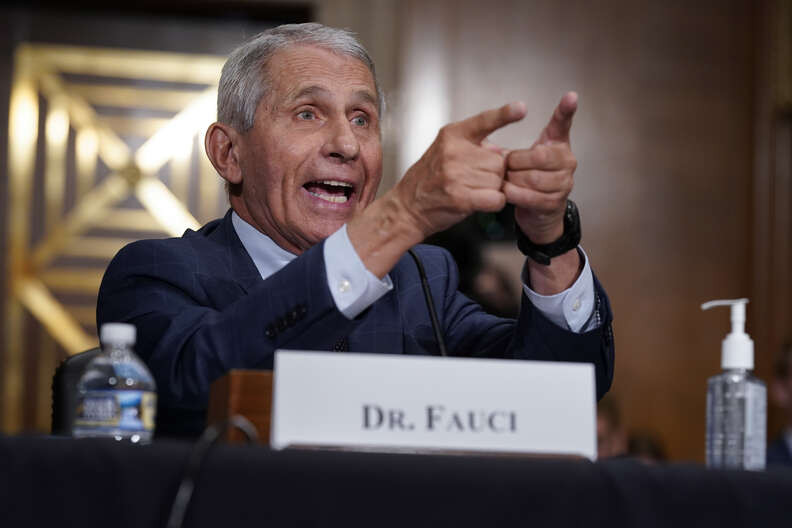 Sen. Rand Paul (R-KY) went after Dr. Anthony Fauci in a recent Senate hearing, making bold claims that the infectious disease expert played a part in the spread of COVID-19.
During Tuesday's hearing, Paul pressed Fauci, who is the director of the National Institute of Allergy and Infectious Diseases (NIAD), about a 2017 study in Wuhan that the senator claimed was funded by NIAD's parent agency, the National Institutes of Health (NIH). Paul said the research was what's known as "gain-of-function," which is a process that makes viruses or other microorganisms more transmissible in order to understand how it adapts in an environment and help scientists better contain or prevent them. Fauci previously testified in May that the research was not gain-of-function.
"Dr. Fauci, knowing that it is a crime to lie to Congress, do you wish to retract your statement of May 11 where you claimed that the NIH never funded gain of function research in Wuhan?" Paul asked.
"Senator Paul, I have never lied before the Congress, and I do not retract that statement," Fauci responded. "This paper that you're referring to was judged by qualified staff up and down the chain as not being gain-of-function."
Paul then started to interrupt Fauci to try and push his idea that the research was gain-of-function, but then said to the senator, "Let me finish."
"Senator Paul, you do not know what you're talking about, quite frankly, and I want to say that officially. You do not know what you are talking about," Fauci said.
The NIH released a statement in May debunking the misinformation being spread by leaders including Paul that it funded any type of gain-of-function research. The organization clarified that it has "supported grants to learn more about viruses lurking in bats and other mammals," but never approved "any grant that would have supported 'gain-of-function' research on coronaviruses that would have increased their transmissibility or lethality for humans."
Paul then accused Fauci of trying to "obscure responsibility for 4 million people dying around the world" from the COVID-19 pandemic, suggesting that the research eventually led to the coronavirus's spread.
"All the evidence is pointing that it came from the lab and there will be responsibility for those who funded the lab, including yourself," Paul said.
Fauci became visibly upset by the accusation and responded: "I totally resent the lie that you are now propagating senator because if you look at the viruses that were used in the experiments, that were given in the annual reports, that were published in the literature, it is molecularly impossible." Paul interrupted him again by saying Fauci is "obfuscating the truth."
"I am not obfuscating the truth… Let me just finish," Fauci continued. "If you look at those viruses, and that's judged by qualified virologists and evolutionary biologists, those viruses are molecularly impossible to result in SARS-CoV-2."
Paul once again interrupted saying that "no one is saying they are," despite previously accusing Fauci of being linked to the virus that caused 4 million deaths worldwide.
"And you are implying that what we did was responsible for the deaths of individuals, I totally resent that, and if anybody is lying here senator, it is you," Fauci said.
Paul went on Fox News's "Hannity" on Tuesday night and said he would be going to the Department of Justice for a criminal referral for Fauci.
"I will be sending a letter to [the] Department of Justice asking for a criminal referral because he has lied to Congress. We have scientists that were lined up by the dozens to say that the research he was funding was gain-of-function," Paul said.
The World Health Organization is pushing to reassess the theory that COVID-19 may have come from a lab in Wuhan, the city where the virus was first detected in late 2019. Though many experts believe the theory is unlikely. Chinese officials have for months pushed back on accusations that the virus may have come from a virology lab, including attacking Fauci, who agreed that further research was needed to rule out the lab theory.
WHO Director-general Tedros Adhanom Ghebreyesus said last week that the organization is "asking China to be transparent, open and cooperate, especially on the information, raw data that we asked for in the early days of the pandemic."