Young People Are Now Driving COVID-19 Spread, Experts Say
The development comes as schools and universities have seen disastrous reopenings involving in-person learning that have led to rises in COVID-19 cases.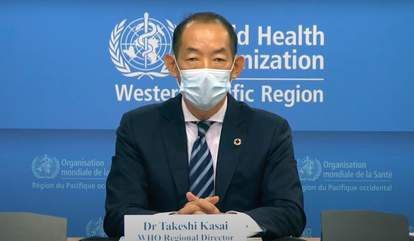 As the COVID-19 crisis is evolving, experts believe that young people are becoming the main source of infectious spread. The news comes as schools have experienced outbreaks as they reopen for the fall.
During a virtual briefing on Tuesday, the World Health Organization's Regional Director for the Western Pacific Dr. Takeshi Kasai said that people in their 20s, 30s, and 40s are "increasingly driving" the spread of COVID-19. 
"Many are unaware they're infected—with very mild symptoms or none at all," Kasai said. "This can result in them unknowingly passing on the virus to others."
Kasai went on to say that young people who are asymptomatic are creating risk for vulnerable populations including seniors, people in long-term care, and those living with chronic illnesses.
Although the coronavirus is continuing to rapidly infect people around the world, Kasai said that he sees many regions reacting quickly to new outbreaks and using "robust contact tracing" to curb the spread.
One of those countries is New Zealand—whose prime minister took quick action when four new cases emerged after going more than 100 days without a locally-transmitted case. 
Kasai goes on to encourage people to continue using safe practices and sustaining the "new normal" while there is no immunity to the virus.
"In many countries, we've seen impressive changes in people's behavior, with mask-wearing, physical distancing and hand hygiene now part of daily life," Kasai said. "We know it's not easy to keep this up and that many people are tired, but we need people to continue making positive choices, protect themselves and their community."
Schools Are Facing Setbacks While Reopening

The University of North Carolina at Chapel Hill welcomed students back the week of August 10. Six days later, more than 130 people had tested positive for COVID-19. According to the university's coronavirus dashboard, 130 students and 5 faculty members tested positive after the first week back—bringing the total up to 279 students and 45 employees testing positive since February. 
The university's chancellor and executive vice chancellor released a statement on Monday that all undergraduate classes would switch to remote learning effective Wednesday. According to the statement, UNC started the fall semester with dorms at less than 60% capacity and 30% of "total classroom seats taught in-person." The school said it will allow "residents who have hardships," such as limited internet access, as well as international students to stay in campus housing. 
UNC's student-run newspaper, The Daily Tar Heel, said some students "felt like guinea pigs they didn't sign up to be." Others said they were confused about their living situations and weren't sure if they were being forced out or not.
"I worked all four years to get into Carolina," first-year student Alex Zielinski told the paper. "It feels like something is being ripped away from you."
Another student, Craige Jarrah Faye, told the newspaper that the fall semester back was "chaos." 
"Chaos, uncertainty, worry, angst, sadness, anger — it's just a lot of that at the same time," Faye continued.
High schools, middle schools, and elementary schools faced a similar risk as some districts began reopening in-person learning earlier this month—a decision that resulted in a jump in cases among students and staff. 
One school in Georgia temporarily closed due to several positive cases of COVID-19 after a widely-shared photo showed a packed hallway of students not wearing masks. Another Georgia school sent its staff home after nearly 260 employees tested positive or were exposed to the virus. 
The issue of opening schools remains contentious among communities and leaders, including President Trump, who has continuously encouraged schools to reopen. He has gone as far as to threaten to withhold funding to schools that did not.