You're Stuck Inside Because of Coronavirus. We've Got Ideas.
While you're staying inside because of the coronavirus, it's important to take care of your mental health.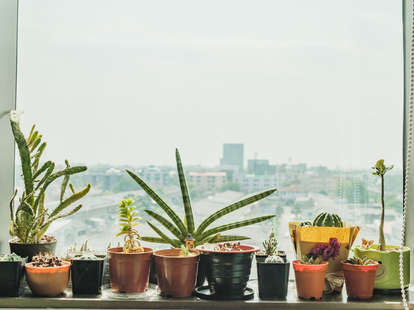 So everything is seemingly canceled because of the coronavirus, and there's a good chance you're planning for a prolonged amount of time indoors.
Hanging out in large groups hasn't explicitly been banned everywhere, but experts have said "social distancing" is a good idea — even if you're young and don't fall into the most at-risk group of adults over 65 who have pre-existing conditions. (TL;DR Your potential transmission of the virus affects more than only you.) As a doctor in Western Europe who saw the COVID-19 outbreak unfold in Italy told Newsweek: "Sit it out. Stay put. Don't travel. It is absolutely not worth it."
We get that Netflix bingeing gets old, and living outside of your normal routine can inevitably get lonely. The rapid pace of the virus' spread in the U.S. has also created a stressful amount of uncertainty. Maybe you expected to travel, go on new dates, and meet your friends at a bar or coffee shop — and now maybe you've reconsidered all of it.
That's why taking care of your mental health is so crucial.
We asked some of our staff for advice on how to make the most of your time inside, and here is an edited list of their tips:
Amanda Choy, Associate Producer: "I'm putting my energy into starting the veggie garden I said I wanted to do this year and reading books I 'never had the time' to read."

Andrew Rivera, Originals Producer: "Video games, video games, video games. Specifically games like World of Warcraft or League of Legends that facilitate social elements and allow group play with voice chat."

Aliya Karim, Community Manager: "I've got tea and books and my journal handy, plus an online account with the public library for access to even more."

Sean Morrow, Senior Producer, News Originals & Podcasts: "Get a twitch stream going so you and your friends can watch a movie 'together.'"

Shelby Levinson, Project Manager: "Start a creative project like a craft."

Alyssa Fronk, Social Publisher: "I've been scheduling FTs and calls to catch up with friends and family lol — we get so wrapped up in our own busy lives (especially in New York City) so I'm trying to look at this extra time inside as a good way to balance back out."

Ashley Ennis, Editorial Producer: "I think this is a great time to plan ahead in our personal lives. I've got my big planner out and will be scheduling appointments, future trips, and writing out new goals/to do lists."

Matty Greene, Politics Producer: "I've been streaming a radio station from my hometown Austin— KUTX 98.9. Even though SXSW has been cancelled, I can still tune into some great music and stay in touch with the culture of my hometown all the way from NYC."

Chris Carfolite, Senior Graphic Designer: "Having background voices, conversational aimless podcasts, getting dressed and not laying down all day, and going outside at least once has been helping."

Lani Chan, Social News Video Producer: "I start making sourdough. It fits seamlessly into WFH life. I have a starter from 'She Wolf' if anyone needs a lil..."

Sally Turner, Correspondent & Supervising Producer: "Hot baths, meditation, face masks on face masks! Also cleaned out my closet and managed to donate 5 bags of clothes, which made me feel good."