"You're The President, Not Like Someone's Crazy Uncle"—Trump Pressed On Conspiracy Theories At NBC Town Hall
NBC anchor Savannah Guthrie pressed President Trump on a number of fronts Thursday night, calling out his amplification of conspiracy theories, the timeline of his COVID-19 diagnosis, and his tax returns.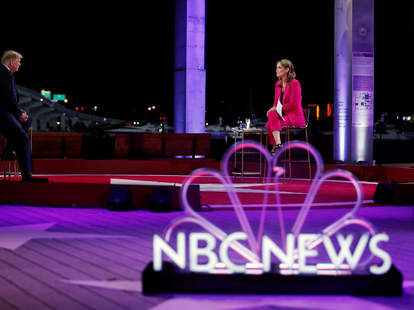 During his Thursday evening town hall, President Trump went toe-to-toe with moderator and NBC co-anchor Savannah Guthrie who pushed him on many topics, like his amplification of dangerous conspiracy theories, his handling of the COVID-19 pandemic and his own diagnosis with the virus.
When Guthrie asked Trump when he had last received a negative COVID-19 test, the president refused to specify, and spoke in vague terms about whether he had been tested the night of the first presidential debate with Democratic candidate Joe Biden.
Guthrie also pressed Trump about him retweeting a conspiracy theory that Biden organized to have Seal Team 6 killed to cover up the fake death of Osama Bin Laden.
"That was a retweet, that was an opinion of somebody, and that was a retweet. I'll put it out there, people can decide for themselves, I don't take a position," the president asserted.
"I don't get that," Guthrie responded. "You're the president — you're not like someone's crazy uncle who can just retweet whatever!"
Trump's niece, Mary Trump, tweeted in response:
Mary Trump published a book about her uncle this summer, "Too Much and Never Enough: How My Family Created the World's Most Dangerous Man." In interviews about the book, she said she has heard the president use the n-word and anti-Semitic slurs.
Guthrie also asked Trump to denounce far-right conspiracy theory group QAnon, to which he vaguely responded "I know nothing about it," but then added, "I do know they are very much against pedophilia. They fight it very hard." (As multiple news outlets have reported, the baseless conspiracy theory may actually be hurting genuine efforts to stop human trafficking.)
Following the turbulent town hall, Trump spent Friday morning tweeting and retweeting more than 40 times before 8am, including a tweet about an Onion-style comedy satire article that he appeared to think was true.
The president was also given the chance to publicly denounce white supremacy during the town hall, but instead immediately pivoted to talking about Antifa.
Guthrie also asked Trump about his tax returns and financial debts, the details of which were recently released by the New York Times.
"The question is, on behalf of voters, who do you owe $421 million to?" she asked.
And though the president did admit that he has more than $400M in debts, he refused to specify who his creditors are—and didn't rule out foreign banks. According to financial documents, the German-based Deutsche Bank is the biggest of 14 lenders that Trump owes.
In December 2016, Mother Jones published a guide to Trump's various lenders. As reporter Russ Choma wrote, "These interactions pose a significant set of potential conflicts because his creditors are large financial institutions (domestic and foreign) with their own interests and policy needs. Each one could be greatly affected by presidential decisions, and Trump certainly has a financial interest in their well-being."
Just before the town hall, Democratic presidential candidate Joe Biden and vice presidential candidate Kamala Harris published a video on Twitter to fact check some of the claims Trump has been making on the campaign trail.