YouTuber NikkieTutorials Says She Was Blackmailed Into Coming Out
The popular makeup artist came out as trans in a video that's gone viral.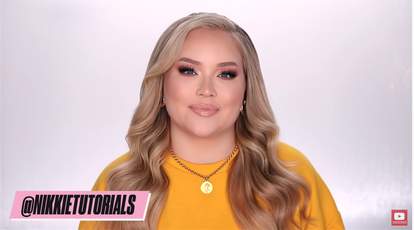 YouTube / @NikkieTutorials

YouTube star Nikkie de Jager — known on her beauty vlog as NikkieTutorials — came out as transgender in a video on Monday that has amassed nearly 20 million views.
The 25-year-old Dutch makeup artist revealed to her 12.5 million subscribers that she was planning to eventually come out on her own, but was blackmailed by unnamed people who threatened to leak her identity to the press. Nikkie gave them a proper middle finger toward the end of her 17-minute video.
"I am me. We don't need labels. But if we are going to put a label on it, yes, I am transgender. But at the end of the day I am me," she said.
Nikkie has a global platform and has collaborated with major brands including Marc Jacobs Beauty and Maybelline.
Fellow YouTubers and influencers, including Nikita Dragun and James Charles, as well as the Human Rights Campaign have expressed support for Nikkie.
TRANS IS BEAUTIFUL 🌈 @NikkieTutorials i am so proud of u! i know how hard it is. to see u out and living ur truth has brought me to tears! u don't know how many people ur inspiring and helping by sharing ur story. i am one of them! she said WOMAN. https://t.co/SoUOndNw7U

— Nikita Dragun (@NikitaDragun) January 13, 2020
I'm so happy for nikkie I cant stop smiling today :')

— James Charles (@jamescharles) January 13, 2020
"I can't believe I'm saying this today… I am transgender." @NikkieTutorials, a popular YouTuber known for her makeup videos, has shared that she is transgender.

Nikkie, we support you and we know that your visibility help trans youth and adults alike feel a little less alone. https://t.co/hbRpedHQsP

— Human Rights Campaign (@HRC) January 13, 2020
In the video, Nikkie shares more details about her story. She says that she always knew she was a girl, and her mother embraced Nikkie expressing her true identity while she was growing up. By 19 years old, she had fully transitioned.
NikkieTutorials is behind the "Power of Makeup" trend that took off on YouTube years ago, which showed impressive transformations using makeup. One of her earliest videos got more than 40 million views, which inspired her to make spinoff videos with Kim Kardashian West and Drew Barrymore. 
In her coming out video, Nikkie thanked her subscribers for loving and supporting her.
"I hope that me standing up and being free, it inspires you to do the same," she said. "To truly live your life like you want it and the way you deserve it."