Packed Georgia School Will Temporarily Close After Several Test Positive For COVID-19
The high school gained attention on August 4 after a photo that showed a crowded hallway was shared thousands of times.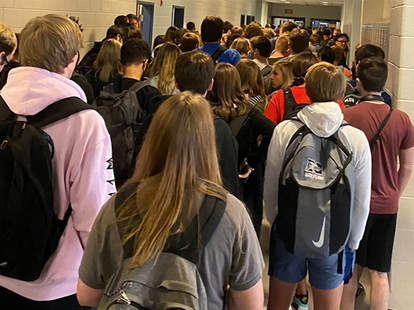 A Georgia high school that faced intense scrutiny last week after photos circulated online of its student-packed hallways will close for at least two days after several students and staff tested positive for the coronavirus.
According to the Atlanta Journal Constitution, North Paulding High School Principal Gabe Carmona sent a letter to parents on August 8 revealing that six students and three staff members who were at the school last week had tested positive for the virus.
Following Carmona's letter, Superintendent Brian Otott sent a letter on Sunday saying that the school would be closed on Monday and Tuesday with classes continuing remotely.
"On Monday and Tuesday, the school will be thoroughly cleaned and disinfected, and the district will consult with the Department of Public Health to assess the environment and determine if there [are] any additional close contacts for confirmed cases who have not already been identified," wrote Otott, who also added that students would be notified if the remote learning will continue.
The high school gained attention on August 4 after a photo that showed a crowded hallway was shared thousands of times from Twitter account @Freeyourmindkid. Soon after, 15-year-old sophomore Hannah Watters shared a similar photo and video from the same high school and later told BuzzFeed News that she was suspended for five days for posting it. Following backlash, her suspension was then reversed.
After news of the temporary closure, Watters told CNN that school administrators "used us as guinea pigs to see what would happen."
Health officials and the Trump administration have waffled on how and when to safely send staff and students back to schools amid the pandemic. The CDC recently published a lengthy explanation about the need to reopen schools, saying "the harms attributed to closed schools on the social, emotional, and behavioral health, economic well-being, and academic achievement of children, in both the short- and long-term, are well-known and significant." But the CDC has also acknowledged that while children are at a "lower risk" for contracting COVID-19, they can act as asymptomatic carriers, and that "the more people children interact with, and the longer that interaction, the higher the risk of COVID-19 spread."
A new report from the American Academy of Pediatrics also found that almost 100,000 children tested positive for the coronavirus in the last two weeks of July.