Analysis: The Remarkable Audacity Of The RNC — Fact-Checking Night 2
It appears the limit does not exist as to what Trump's allies will say or do in their attempts to make Donald Trump appear worthy of reelection.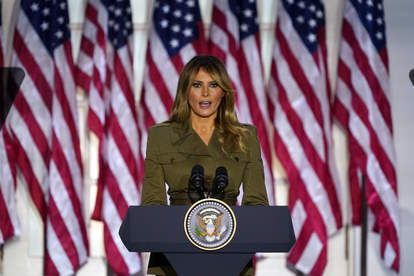 Night two of the Republican National Convention was certainly remarkable, historic even — but not in a good, or exactly legal, way. It included: a speech from Secretary of State Mike Pompeo (who was in Jerusalem) that violated his own guidelines for State Department employees, went against years of political norms, and potentially broke federal law; transphobic comments made by the granddaughter of famed evangelist Billy Graham, including slamming Democrats for supporting gender equity; and Tiffany Trump warning Americans that misinformation "keeps people mentally enslaved," even as her father has violated several guidelines on Twitter for spreading misleading or false information and continues to attack the free press.
Let's walk through some of these.
Sec. of State Mike Pompeo's speech violated his own State Dept. guidelines 
Secretary of State Mike Pompeo's RNC speech violated his own guidelines for State Department employees, as well as the Hatch Act, which bars federal officials from participating in certain political activities. Pompeo has previously instructed his own staff to stay neutral in politics. Previous sitting Secretaries of State, both Republican and Democrat, did not attend or speak at their party's conventions while in office.
 "It's all just shredding the Hatch Act," a current U.S. diplomat said to NBC News.
Rep. Joaquin Castro (D-TX) on the House Foreign Affairs Committee announced Tuesday that he is opening an investigation into Pompeo for giving the speech because of those violations. "The Trump administration and Secretary Pompeo have shown a gross disregard not only of basic ethics, but also a blatant willingness to violate federal law for political gain. Congress has a responsibility to stand up for the rule of law and hold them accountable for this corrupt behavior," Castro said in a statement.
"The political appointees know they are breaking the rules, they are using the full power of the U.S. government for overt political means and they know it," a State Dept. employee told NowThis on Tuesday. "This didn't start tonight, [Pompeo's] been taking domestic trips to places like Kansas for personal political gain since he took office. All of those have been fully supported by dedicated nonpartisan civil servants who are watching their service to their country be politicized as they are asked to work in capacities that actively undermine the system they pledged to uphold."
'It may not have made him popular in every foreign capital, but it has worked.' — Sec. of State Mike Pompeo reflects on Pres. Trump's (often) contentious international relations #RNC2020 pic.twitter.com/6EXgxRwAlJ

— NowThis (@nowthisnews) August 26, 2020
Tiffany Trump cautioned against "misinformation" as her father repeatedly spreads false claims 
Tiffany Trump unironically said at the RNC that "manipulation of what information we receive impedes our freedoms," and that "this misinformation system keeps people mentally enslaved to the ideas they deem correct."
Her father — the president — has shared doctored images and videos to his tens of millions of social media followers, promoted conspiracy theorists, and has been flagged by Twitter numerous times for violating policies "against abusive behavior, specifically, the presence of a threat of harm against an identifiable group," for "making misleading health claims that could potentially dissuade people from participation in voting," and spreading COVID-19 misinformation. 
Trump's response to being flagged by Twitter was to suggest that he would "close down" social media platforms (yes, on Twitter). There is no evidence that Trump could wield such power over publicly traded companies that billions of people use globally, Bloomberg News reported.
 
Tiffany Trump: "Manipulation of what information we receive impedes our freedoms...This misinformation system keeps people mentally enslaved to the ideas they deem correct. This has fostered unnecessary fear and divisiveness among us." https://t.co/tz1YGPbJoz pic.twitter.com/mqnCLZzaJe

— CBS News (@CBSNews) August 26, 2020
First Lady Melania Trump's RNC speech seemed to ignore the president's actual COVID-19 actions 
First Lady Melania Trump said during her RNC speech that "Donald will not rest until he has done all he can to take care of everyone impacted by this pandemic." But her husband did not wear a mask until the U.S. death count hit 135,000, has discounted advice from top health authorities like Dr. Anthony Fauci, has called COVID-19 the "China virus" and said it "will go away," and has pushed for schools to reopen. Just this week, several schools and universities have had to roll back their plans to reopen in person after seeing a spike in infections. 
The President has also been seen playing golf several times, including as recently as this weekend, while the pandemic threatens the collective health of the nation he is charged with protecting. Praising his actions during the pandemic has been a recurring theme of the RNC, despite the U.S. accounting for nearly 25% of all COVID-19 cases worldwide.
The First Lady made her keynote speech from the newly renovated Rose Garden, where she recently removed trees planted by former First Lady Jacqueline Kennedy. Ethics experts have warned it might be illegal for the Trumps to use the White House and other taxpayer-funded venues for convention speeches. Obama-era diplomat Richard Stengel has decried it as a "criminal appropriation of Congressional funds for political purposes."
Granddaughter of famed evangelist used transphobic comments to support Trump's re-election
Cissie Graham Lynch, granddaughter of famed evangelist Billy Graham, claimed Democrats threatened to silence religion by supporting gender equity. "Democrats pressured schools to allow boys to compete in girls' sports and use girls' locker rooms, those are the facts," she said, later adding that Trump "withdrew the policies that placed our little girls at risk." In New York City, where Donald Trump is from, it has been illegal to discriminate against an individual on the basis of gender identity or expression, including denying access to bathrooms, since 2002. 
Rand Paul makes false claims about Trump, taxes, and war 
Sen. Rand Paul (R-KY) made false statements about President Trump's position on taxes and the Iraq War. "Trump and I worked together to make sure [there] was a true tax cut," he said. But more than 10 million American families saw their taxes increase in 2018 under Trump's tax law. Sen. Paul also claimed Trump "is the first President in a generation to seek to end war rather than start one." But this is not true. President Obama inherited the wars in Iraq and Afghanistan and struggled to end both. Trump has falsely claimed himself that he opposed the Iraq War, but he supported it at the time.
Trump economic advisor Larry Kudlow refers to COVID-19 as if it's over 
Economic advisor Larry Kudlow referred to COVID-19 during his RNC speech as if it's over, saying, "You're coming out of a pandemic." The U.S. has the highest COVID-19 case count in the world, including more than 178,000 people who have died from the virus. 
Despite an estimated net worth of around $25 million, Kudlow's household applied for a Paycheck Protection Program loan, which many minority business owners desperately needed and did not receive. 
Kudlow also said that because the S&P 500 "is up 50 percent from its low in March … middle-class families are feeling more secure about the future." But most Americans don't own stock. The richest 1% of Americans own half of all stock. The top 10% owns 92% of stock.
A spokesperson for former Vice President and Trump's 2020 rival Joe Biden said in a campaign statement Tuesday night that "President Trump's RNC is an alternate reality."
"In this delusion, thousands of Americans didn't die in the last week from COVID-19, nor have millions of Americans been infected or put out of work. Our economy hasn't ground to a halt and our kids aren't being kept home from school. Donald Trump's continual refusal to take this virus seriously has given the United States the worst outbreak in the world, and his convention's refusal to come to grips with reality or acknowledge the magnitude of the loss is a stark reminder to Americans of his complete failure to lead," the statement continued.