Analysis: The RNC's First Night Was A Carnival Of Misinformation
Step right up, folks, as we break down the Republican National Convention with fact-checked claims on COVID-19, Biden's policies, and the reality of Trump's presidency.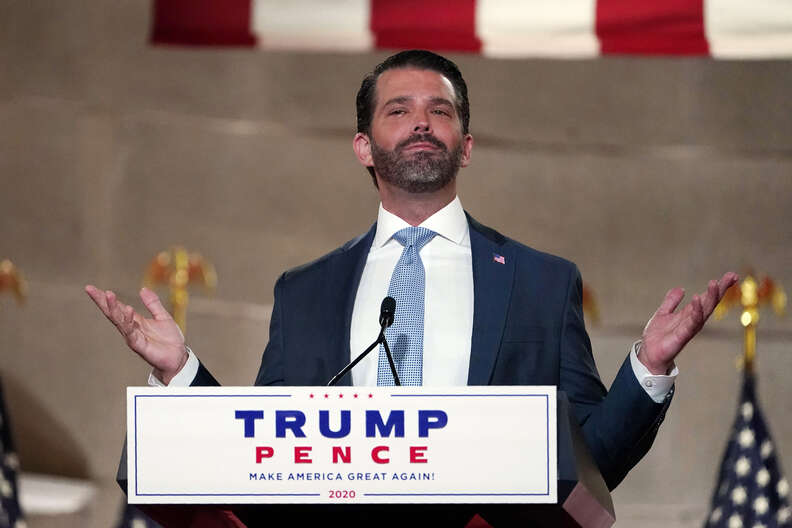 If you took everything said on night one of the 2020 Republican National Convention at face-value, you'd come away thinking President Donald Trump has done an excellent job at handling the coronavirus pandemic, has single-handedly saved the economy, and that Joe Biden is a socialist-communist-Marxist who wants to defund police entirely.
In reality, the U.S. has the highest number of confirmed COVID-19 cases and highest number of deaths in the world—and the rates of infection have been much higher than that of any other developed country. The U.S. has about 4% of the world's population but 25% of all confirmed cases. And Democratic presidential nominee Joe Biden said just this weekend (and repeatedly during the campaign) that he does not want to defund police. (He is also not a socialist, communist, or Marxist.)
Here are some of the major themes that emerged Monday, from night one of the RNC, fact-checked:
Claim: Trump is the hero of the pandemic
Multiple speakers, including sitting members of Congress like Rep. Steve Scalise (R-LA), claimed that Trump has "saved lives" during the pandemic with "decisive leadership" that was "quick and efficient." Public health experts have repeatedly said that Trump's failure to support mask-wearing, inept handling of states' health care needs, and dysfunctional governing have made the pandemic worse—and are the reasons the U.S. death toll is so much higher than other countries.
Dr. G. E. Ghali, a surgeon and chancellor of LSU Health Sciences Center in Shreveport, asserted in a speech that Trump's support for "expedited therapies" helped speed along medical breakthroughs during the ongoing crisis. "Donald Trump truly moved mountains to save lives and he deserves credit," Dr. Ghali said.
But in actuality, Trump has been pushing unproven treatments like hydroxychloroquine that experts and the FDA have said are "unlikely to be effective" in treating COVID-19.
Dr. Ghali spoke about how "the FDA granted expanded access to COVID-19 convalescent plasma" as a positive development. Shortly after Ghali's speech, FDA Commissioner Dr. Stephen Hahn tweeted that he overstated the benefit of convalescent plasma as a COVID-19 treatment and that "the criticism is entirely justified."
Despite Dr. Ghali's praise of Trump during the RNC, he disagreed with Trump's lack of support for universal mask-wearing, saying, "It's ridiculous to say one should not wear a mask."
Claim: Democrats are "soft on crime" and want to defund the police
Speakers at the RNC Monday night "warned that Democrats will defund police and law enforcement more than a dozen times," according to analysis by ABC News—which also noted that Biden told ABC's "Good Morning America" three days ago that he doesn't want to defund police.
This issue has come up before, and Fox News anchor Chris Wallace corrected President Trump on it in July.
Rep. Matt Gaetz's (R-FL) RNC speech stoked fears about defunding the police, saying Democrats "will disarm you, empty the prisons, lock you in your home, and invite MS-13 to live next door. And the defunded police aren't on their way." Protesters calling to defund police aren't all specifically trying to remove entire departments — they instead want to reallocate some local funding toward health care and education. There is a movement to "abolish the police," but the Biden-Harris ticket does not support it.
RNC speakers also painted a picture of "Democrat-run cities" being "in ruin." Rep. Jim Jordan of Ohio said Dem leadership has led to "crime, violence, and mob rule." Between 2008 and 2016, under the Obama-Biden administration, both violent crime and property crime in the U.S. declined by double-digits, according to the FBI and Bureau of Justice Statistics. As for any link between party affiliation and crime, the executive director of the Center for Evidence Based Crime Policy at George Mason University told USA Today: "I don't think there's any data that would allow us to draw a causal conclusion here. Somehow arguing that Democrats cause crime or something of that sort just doesn't fit the history of crime prevention in the U.S."
Claim: Biden and Harris want to build a "socialist utopia"
Sen. Tim Scott (R-SC), who closed out the evening, said Joe Biden and Kamala Harris want to turn the U.S. into a "socialist utopia," a recurring theme of the first night of the RNC. Biden is not a socialist, communist, or Marxist, as he was called over the course of the night. He is also considered much more moderate than his primary opponent, Sen. Bernie Sanders, who supports democratic socialism (also not the same thing as communism). And the word "utopia" actually means a "place or state of things where everything is perfect."
Claim: Joe Biden "lurks in the swamp" and never does anything
Trump's oldest son, Donald Jr., called Joe Biden the "Loch Ness Monster of the swamp," referring to his father's calls to "drain the swamp in Washington, D.C." Don Jr. claimed that for the last 50 years, Biden lurks in the swamp, "sticks his head up every now and then to run for president, then he disappears and doesn't do much in between." Biden served as the nation's vice president for eight years without a major scandal, while Trump last year became only the third president in U.S. history to be impeached for abuse of power of his office.
As of this week, nine close Trump associates have been arrested, convicted, or pleaded guilty to crimes, including most recently, his 2016 campaign executive chairman and senior adviser, Steve Bannon.
Claim: Trump won't attack freedom of thought, speech, and religion
Donald Jr. also said Democrats will attack "freedom of thought, freedom of speech, and freedom of religion." But as president, Trump regularly calls reporters the "enemy of the people." While in office, Trump has enacted a ban on several Muslim-majority countries, has been sued for blocking people on Twitter, and has blocked White House press access for news outlets that have been critical of him.
Conservative commentator Charlie Kirk, 26, opened the RNC by talking about defending "Western civilization," a known dog whistle for white supremacy. Kirk also claimed Trump's leadership "makes it easier to have many children, to live quiet and peaceable lives and worship your God without a tyrant getting in the way." Kirk had a notable piece of information missing from this speech, which is: leading up to 2016, Trump campaigned on banning people of an entire religion from entering the U.S. — and enacted a ban on several Muslim-majority countries once in office. Kirk has also previously called COVID-19 lockdowns "the greatest violation of individual rights in American history."
Claim: Democrats destroyed California
Ex-Fox News host Kimberly Guilfoyle, who is also Donald Trump, Jr.'s girlfriend and a Trump campaign adviser, claimed in her speech that Democrats ruined the state of California. "If you want to see the socialist Biden-Harris future for our country, just take a look at California. It is a place of immense wealth, immeasurable innovation, and an immaculate environment" that she claims Democrats "turned in a land of … riots in streets, and blackouts in homes." California has faced rolling blackouts in recent weeks due to widespread fires burning across the state. CA Gov. Gavin Newsom (D) has said climate change is helping fuel them. Republicans have consistently rejected climate reform policies, which Trump once called "a Chinese hoax." California has had a Democrat as its governor since 2011, following Republican Gov. Arnold Schwarzenegger's administration.
Claim: "Democrats won't let you go to church, but they'll let you protest"
Rep. Jim Jordan (R-OH) tried to spin Democrats using science-backed guidance on when to reopen schools and churches as a bad thing. "Democrats won't let you go to church, but they'll let you protest," he said. Public health experts, like Dr. Anthony Fauci, have cautioned against reopening too quickly and causing another spike in COVID-19 cases, as many states saw this summer. The widespread Black Lives Matter protests that also took place this summer did not result in a spike of COVID-19 cases, which some experts attribute to protesters largely wearing masks and being outdoors.
Experts feared resuming indoor church services too quickly would lead to a resurgence in cases—and it did. According to a New York Times analysis published in July, "More than 650 coronavirus cases have been linked to nearly 40 churches and religious events across the United States since the beginning of the pandemic, with many of them erupting over the last month as Americans resumed their pre-pandemic activities."
Even with that as the case, some Democratic governors allowed church services to continue, like Gov. John Bel Edwards in Louisiana.
Claim: "America is not a racist country"
Nikki Haley, Trump's former UN ambassador, said that "in much of the Democratic Party it's now fashionable to say, 'America is racist.' That is a lie. America is not a racist country." Haley's statement came as nationwide anti-racism demonstrations continue into their third month, with protesters demanding an end to systemic racism and police brutality against Black people. Her speech also came just one day after more protests erupted in response to officers in Kenosha, WI, shooting Jacob Blake seven times in the back. (Blake's name was not mentioned at the RNC Monday night.)
Additionally, Trump has used racist language during his 2016 campaign and throughout his years as president, calling COVID-19 "the China virus," referring to white supremacists as "very fine people," defending Confederate monuments, and telling women of color members of Congress to "go back where you came from."
A panel of NowThis reporters, guest commentators and political analysts fact-checked the RNC in real-time and will continue to do so all week. Watch the replay of our night one live commentary here.