Atlanta Mayor Keisha Lance Bottoms Urges Voters To Carry On John Lewis' Legacy
"He reminded us that if we fail to exercise our right to vote, we can lose it."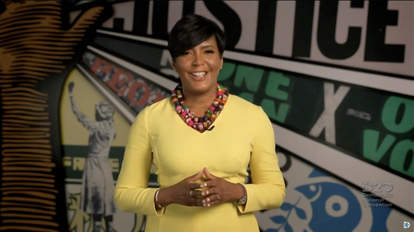 Atlanta Mayor Keisha Lance Bottoms spoke on the fourth and final night of the Democratic National Convention on Thursday to encourage Americans to vote and carry on the legacy of late civil rights icon Rep. John Lewis.
"We must pass on the gift John Lewis sacrificed to give us," Bottoms said.
A lifelong civil rights advocate, Lewis played a crucial role in the civil rights movement by organizing lunch counter sit-ins, participating in the Freedom Rides, and helping to lead the march for voting rights across the Edmund Pettus Bridge in Selma, AL in 1965, where he and other demonstrators were attacked by state and local police. That day has been referred to as Bloody Sunday. Lewis also served as the U.S. Representative for Georgia's 5th congressional district for more than three decades.
During her address, Bottoms reminded viewers about the last essay Lewis wrote about the importance of voting.
"In his parting essay written to us, Congressman Lewis expressed his pride in the activism that has swept our country, and he reminded us that if we fail to exercise our right to vote, we can lose it." she said.
Bottoms also encouraged Americans to text VOTE to 30330 to register to vote and help support presidential nominee Joe Biden's campaign.
"Let's stand up for our children, our children's children and for this great democracy that our ancestors worked to build, and let's vote," she said. "We cannot wait for some other time, some other place, some other heroes. We must be the heroes of our generation, because we, too, are America!"