Barack Obama Endorses Joe Biden For President
"Even before the pandemic turned the world upside down, it was already clear that we needed real structural change."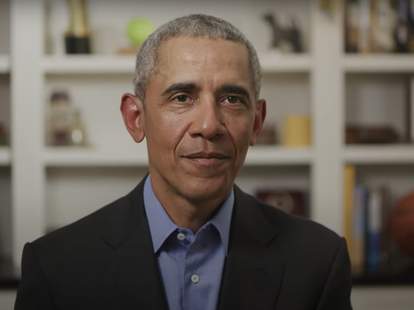 Former President Barack Obama endorsed his own former Vice President Joe Biden for the 2020 presidency on Tuesday.
Obama made the endorsement via a video message, detailing why his former VP is the leader America needs.
"I believe Joe has all the qualities we need in a president right now," Obama said. "He's someone whose own life has taught him how to persevere, how to bounce back when you've been knocked down."
"Even before the pandemic turned the world upside down, it was already clear we needed real structural change," Obama continued.
Obama's endorsement of Biden comes one day after former presidential candidate Bernie Sanders' endorsement. Obama didn't publicly endorse any candidate throughout the primaries, but finally made the public statement in support of Biden after the VP became the presumptive presidential nominee — a similar decision he made during the 2016 election, endorsing Hillary Clinton after she became the presumptive nominee as well.
"We have a field of very accomplished, very serious and passionate and smart people who have a history of public service," he reportedly said at a private fundraiser in late 2019. "Whoever emerges from the primary process, I will work my tail off to make sure they are the next president."
According to NBC's delegate tracker, Biden has collected 1,288 delegates. Bernie Sanders, who has suspended his campaign but said he would continue to collect delegates, currently has 942. A candidate needs 1,991 delegates to win the Democratic nomination.