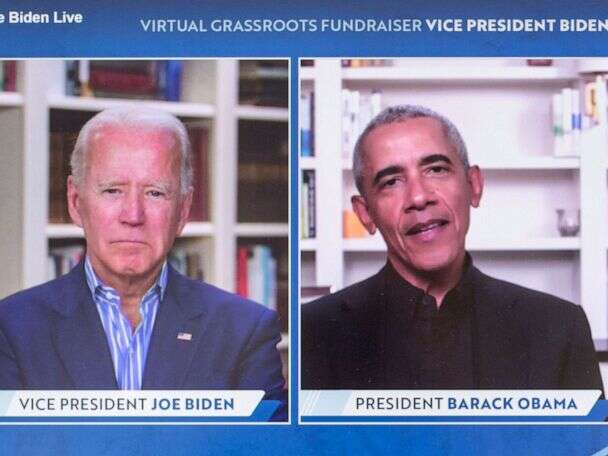 Former president Barack Obama has an emphatic message for Democrats and those who want to defeat President Donald Trump, delivered a little more than four months away from the crucial November 2020 election: "We have to do more."
"This is serious business," Obama said in his first joint fundraiser with Biden this week. "Whatever you have done so far: it's not enough. And I hold myself, Michelle, my kids to the same standard. Whatever we have done to help Joe Biden get elected: we have to do more."
The former president urged against any sense of complacency, even as national polls this week show Biden with a decent lead over Trump.
"We can't be complacent or smug or sense that somehow it's so obvious that this president hasn't done a good job, because look, he won once," Obama said.
Speaking of the recent surge in activism with Black Lives Matter protests in the wake of George Floyd's death, Obama said, "There is no disconnect between the urgency of this political moment and what is happening in the streets."
But, he added later, "just because this energy is out there, it does not mean that it assures our victory."
Obama appeared with his former vice president for a virtual grassroots fundraiser on Tuesday, in which the two spoke to each other and answered some submitted questions for about an hour. The Biden campaign said the event raised $7.6 million from 175,000 grassroots contributors. A high-dollar fundraiser with Obama and Biden the same day brought in $3.4 million according to the campaign, leading to a total of more than $11 million that Obama helped bring in for Biden this week. It's the campaign's biggest fundraiser yet.
The two occasionally joked with each other and expressed incredulity at the Trump administration's bungled handling of the coronavirus outbreak.
"Unlike our current president, we recognize that we have a public health crisis going on," Obama said. Laughing a little, he added, "Poor Dr. Fauci, who's having to, you know, testify and then see his advice flouted by the person he's working for."
Dr. Anthony Fauci of the National Institute of Health testified before Congress this week and said the White House pushed to cut funding to the NIH for studying coronaviruses. He also testified about the "disturbing surge" of coronavirus cases the U.S. is seeing and said "the virus is not going to disappear." On Friday, Fauci appeared at the first White House coronavirus task force briefing held in nearly two months and urged people to continue wearing masks and social distancing.
On the call Tuesday, Obama said, "I appreciate you all being on this call, but man, this is serious business," to the reported 120,000 people who logged on to watch.
Obama said he is "wildly optimistic about the possibilities for change in this country," and observed to Biden: "People are asking questions about how we can make government work again, that even people in 2008, 2009, when we were in office, Joe—people weren't ready for those questions."
"We have this unique chance to translate a growing awareness of injustice in this society into actual legislation, and institutional change, that can make a difference in people's lives, and those moments don't come that often," Obama said Tuesday. "Because generally we're too busy with our own lives, and we're too busy with all the distractions - some worthy and some not so worthy - that modern life provides. This is one of those times when we know what's at stake and we know we can do better. And if that's the case, then it is now the time for us to step up. And I'm hoping that your presence on this call isn't the end of your involvement but it's the beginning. Because we sure as heck got a lot of work to do."
They ended the call candidly: "Love you, Joe," Obama said before signing off, to which Biden responded, "Love you too, pal."