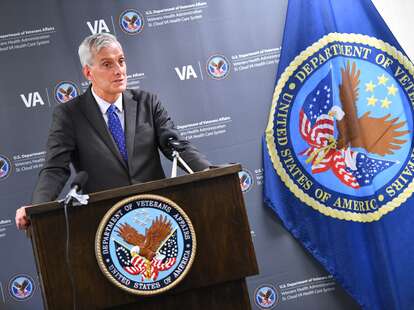 The Department of Veterans Affairs will take steps to expand its health care coverage to include gender affirmation surgery, Secretary Denis McDonough announced Saturday. The current policy allows veterans to receive non-surgical therapy, such as mental health services and hormone therapy, but obtaining gender affirmation surgery using the VA's medical benefits package is still prohibited.
Sec. McDonough made the announcement at a Pride event at the Orlando Vet Center in Florida. A spokesperson for the department said a number of VA policy updates are set to begin this summer.
"The entire process can take approximately two years and includes a period of public comment," the spokesperson said.
Sec. McDonough said that time "will allow VA to develop capacity to meet the surgical needs that transgender Veterans have called for and deserved for a long time."
Citing the story of Vietnam War vet Leonard Matlovich, Sec. McDonough said the VA has a "dark history" of treating LGBTQ+ veterans differently.
"For generations, service members who identify as lesbian, gay, bisexual, transgender, or related identities faced brazen discrimination or even worse — not just in our Armed Forces, but in so many aspects of their lives," Sec. McDonough said.
Matlovich, a Purple Heart recipient, was issued an other-than honorable discharge from the military after revealing he was gay.
The National Center for Transgender Equality, which estimates there are more than 130,000 trans veterans in the U.S., celebrated the announcement as a "big win."
Chairman of the House Committee on Veterans' Affairs Mark Takano (D-CA) applauded the VA's decision.
"Veterans in need of gender confirmation surgery should not have to seek healthcare outside of the VA health system or navigate complicated processes to get the care they need," Takano said.
Takano, who is gay, said Sec. McDonough's announcement comes at a time when the nation must "reckon with the effects of … discriminatory military policies and undo the damage that has been done."
Rep. Mike Bost (R-IL), ranking member of the committee decried the announcement, saying it "has more to do with advancing a radical liberal agenda than serving veterans," according to Air Force Times.
Gender affirming surgery is seen as a medical necessity by major medical associations, including the American Medical Association and the American Psychological Association.
The VA spokesperson said "gender affirming procedures have been proven effective at mitigating serious health conditions, including suicidality, substance abuse, and dysphoria."
In February, Sec. McDonough ordered a still-ongoing review of the VA's policies "to ensure that transgender Veterans and employees do not face discrimination on the basis of their gender identity and expression."
Days after taking office, President Joe Biden did away with Trump-era restrictions barring trans people from openly serving in the armed forces.
LGBTQ+ vets disproportionately experience mental illness and suicidal thoughts and are less likely to seek care out of fear that they'll be discriminated against.
"We're making these changes not only because they are the right thing to do, but because they can save lives," Sec. McDonough said.