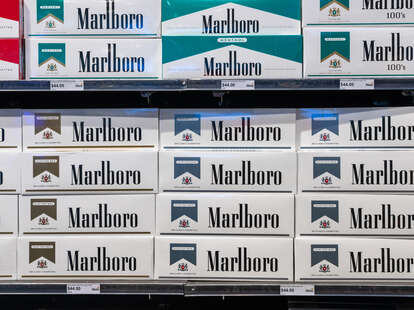 The Biden administration is reportedly taking aim at the chemical that has long kept Americans hooked on cigarettes: nicotine. According to the Wall Street Journal, the administration is considering mandating that tobacco companies significantly reduce nicotine in all cigarettes sold in the U.S. to non-addictive levels.
White House press secretary Jen Psaki said at an April 20 press briefing that the administration "will review a range of policy options in line with the president's public health goals." She added: "There are no policy proposals or decisions to review today."
More than 480,000 deaths per year in the U.S. are attributed to cigarette smoking, including deaths from exposure to secondhand smoke, according to the Centers for Disease Control. While nicotine is not responsible for causing lung disease, cancer, and most diseases related to smoking, the chemical makes cigarette smoking addictive. Some ways to reduce nicotine levels include modifying the DNA of tobacco plants or removing nicotine from tobacco leaves during manufacturing, according to the WSJ.
This isn't the first time that U.S. policymakers have explored the possibility of reducing nicotine levels in cigarettes. In 2017, the Food and Drug Administration announced that as part of its comprehensive tobacco and nicotine regulation plan, it would explore lowering levels of nicotine in cigarettes to minimally addictive or non-addictive levels.
"Because nicotine lives at the core of both the problem and the solution to the question of addiction, addressing the addictive levels of nicotine in combustible cigarettes must be part of the FDA's strategy for addressing the devastating, addiction crisis that is threatening American families," then-FDA Commissioner Scott Gottlieb said at the time.
A May 2018 FDA-funded study published in the New England Journal of Medicine estimated that reducing the nicotine in cigarettes to minimally addictive levels would lead 5 million smokers to quit within a year, compared to if no such reduction was made.
After Gottlieb left the FDA in 2019, the exploratory plans to lower nicotine levels fizzled, according to multiple reports.
The FDA has the power to regulate the levels of nicotine and other ingredients in tobacco products under the Tobacco Control Act, which became law in 2009. The legislation also banned flavored cigarettes, with one exception: menthol. Twelve years later, that could change.
The FDA must respond to a citizen petition that calls for a ban on menthol cigarettes by April 29. (A citizen petition lets the public request the FDA make a change to health policy.) While the petition was filed in 2013, the FDA agreed to the 2021 deadline after facing a lawsuit the previous year.
"Prohibiting the sale of menthol cigarettes is one of the most powerful steps the FDA can take to improve America's health," reads the petition. "In light of the scientific evidence, there is no justification for continuing to give special treatment to the most deadly of all cigarette flavors."
Menthol cigarettes, which have a minty flavor with a cooling effect when smoked, are popular among young smokers. According to the FDA, more than 50% of teen smokers use menthol cigarettes. For years, tobacco companies have marketed menthol cigarettes toward Black Americans. According to the FDA, more than 85% of Black smokers use menthol cigarettes compared to approximately 29% of white smokers; a 2010 study published in Addiction concluded that "among African Americans, menthol cigarette smoking is associated with a decreased likelihood of smoking cessation."