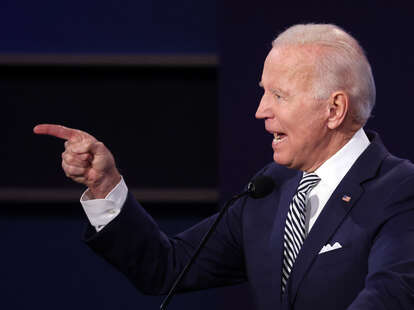 Democratic presidential nominee Joe Biden participates in the first presidential debate against U.S. President Donald Trump at the Health Education Campus of Case Western Reserve University on September 29, 2020 in Cleveland, Ohio.

| Getty Images
Democratic presidential nominee Joe Biden participates in the first presidential debate against U.S. President Donald Trump at the Health Education Campus of Case Western Reserve University on September 29, 2020 in Cleveland, Ohio.

| Getty Images
During a messy first presidential debate that consisted of personal attacks and minimal policy discussion, former Vice President Joe Biden appeared to emerge with one significant edge: more cash.
The Biden campaign raised a reported record $3.8 million between 10 and 11 p.m. ET, according to a campaign official. The Democratic National Convention also saw its best online fundraising hour ever between 11 p.m. and midnight, a party official said without citing a specific figure.
RELATED: "Will You Shut Up, Man?" — Joe Biden Snaps Back At Trump After Being Incessantly Interrupted
NowThis reached out to fundraising platform ActBlue to confirm Biden's fundraising figures. The record donation rush included the last half-hour of the debate, which began at 9 p.m. ET.
"Joe Biden spoke directly to the American people tonight and they are responding," Biden deputy campaign manager Kate Bedingfield told reporters.
One significant difference between candidates during the debate was that Biden broke the fourth wall multiple times to directly address viewers, particularly in areas that he sees as his opponent's weaknesses: the country's COVID-19 crisis response and the future of the Affordable Care Act.
Biden's fundraising sweep comes after Democratic candidates and progressive causes saw a surge of donations following the death of Justice Ruth Bader Ginsburg. According to The Hill, citing an ActBlue spokesperson, Democrats raised more than $300 million in small-dollar donations since Ginsburg's death on September 18.
RELATED: "You're The Worst President America Has Ever Had": Biden Rails Against Trump For Avoiding His Taxes
For Biden, the post-debate haul signals continued financial momentum, after the Democratic candidate significantly outraised President Trump's reelection campaign in August. The Trump campaign has also reportedly mismanaged hundreds of millions of dollars, and the president has reportedly considered putting some of his own money into the race.
As of Wednesday, the Trump campaign hasn't publicly released post-debate fundraising numbers.
Biden, whose campaign has also released a cheeky ad and merchandise after a widely publicized investigation into the president's tax returns, also began the morning with a pithy tweet.