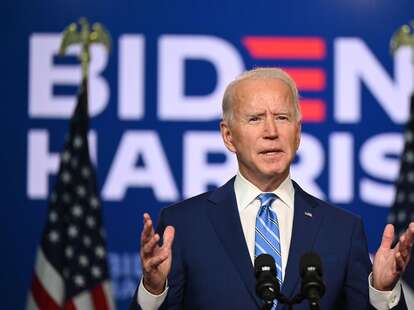 Democratic presidential nominee Joe Biden carried an air of confidence and congeniality this afternoon as his campaign was projected to win the battleground states of Wisconsin and Michigan, strengthening his electoral and popular vote lead over President Trump.
The former vice president spoke after the Trump campaign filed lawsuits to stop vote counting in Michigan and Pennsylvania, where Trump had been expected to lose based on counts in progress. The presidential race result has been expectedly delayed because of a record amount of early votes and mail-in ballots, which can take longer to count, cast during the COVID-19 pandemic.
"I'm not here to declare that we've won," Biden said. "But I am here to report that when the count is finished, we believe we will be the winners."
In his speech, Biden presented a message of unity. He thanked his supporters and campaign team, as he eyed the possibility of defeating an incumbent president.
"Every vote must be counted. No one is going to take our democracy away from us, not now, not ever," Biden said. "We the people will not be silenced. We the people will not be bullied. We the people will not surrender."
His remarks aligned with his campaign's earlier statements Wednesday, when campaign manager Jen O'Malley Dillon said during a morning briefing that Biden is on track to win in Wisconsin, Michigan, and Pennsylvania — all states that Trump won in 2016. Those battleground states, along with Georgia and North Carolina, continued to count ballots well into Wednesday. Results in Arizona, Alaska, and Nevada have also yet to be finalized as of Wednesday afternoon.
Throughout Wednesday, President Trump repeated his false claims that voters' uncounted ballots are fraudulent, with Twitter flagging nearly every tweet he sent about the election. Hours before the sun rose, he falsely declared victory in the race during a speech from the White House. Trump added that he wanted "all voting to stop" and that he will take that demand to the Supreme Court, even though there are laws in every state that allow officials time to certify election results.

Biden appeared to reference his opponent's approach to the race during his newest appearance.
"To make progress, we have to stop treating our opponents as enemies," Biden said. "We are not enemies."
He also repeated a promise he's made often throughout the general election: "I am campaigning as a Democrat, but I will govern as an American president."
O'Malley Dillon said in a statement earlier Wednesday that if Trump contests the election in court, Biden has "legal teams standing by ready to deploy to resist that effort." Politico also previously reported that Biden's campaign has been fundraising to cover legal fees in case post-election disputes drag out in court.
Biden campaign adviser Bob Bauer said during the Wednesday morning briefing that the president's threats to challenge voters' intent and "undermine democracy" are "certain to fail."
Clarification: A previous version of this article said that President Trump was projected to lose in Pennsylvania based on vote counts in progress, including of uncounted mail-in ballots, most of which elections officials have expected to favor Joe Biden. At the time of publication, while not being officially projected to lose, Trump was expected to lose.