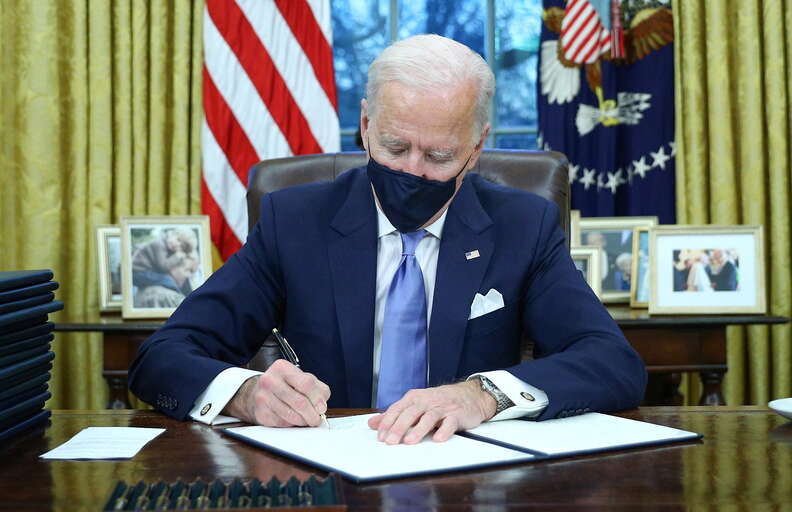 On his first day in office, President Joe Biden signed more than a dozen executive actions aimed at reversing damaging Trump policies on the climate crisis, civil liberties, immigration, and the COVID-19 response.
"These are just executive actions. They are important, but we're going to need legislation for a lot of the other things we're going to do," Biden said Wednesday evening to reporters.
In a memo sent from Ron Klain, Biden's chief of staff, to "incoming White House senior staff" on January 16, titled, "Overview of First 10 Days," Klain identified "four overlapping and compounding crises: the COVID-19 crisis, the resulting economic crisis, the climate crisis, and a racial equity crisis." Klain continued: "In his first ten days in office, President-elect Biden will take decisive action to address these four crises, prevent other urgent and irreversible harms, and restore America's place in the world."
Here are some ways Biden immediately reversed Trump policies and introduced a new vision on January 20, after he was sworn in as the 46th president of the United States:
Rejoined Paris Climate Agreement

Biden signed an executive action Wednesday to immediately rejoin the Paris Agreement, a binding international treaty on the climate crisis signed by most other countries in the world.
In June 2017, President Trump announced his intent to withdraw the U.S. from the Paris Climate Agreement. The U.S. filed notice to withdraw in November 2019 despite widespread criticism, and officially withdrew one year later under the treaty's rules.
The executive director of the Center for Biological Diversity said in a statement Tuesday,
"The Biden administration's historic moves mark the beginning of the end of America's pariah status in the global struggle against the climate crisis. These huge first steps show Biden is serious about climate action, but... Much more is needed, and we're increasingly hopeful the administration will stop approving new fossil fuel projects and speed the t
The Biden administration will be the first to have a "climate czar." Former Secretary of State John Kerry will serve in the newly created role on the National Security Council.

Mandated mask-wearing on federal property

Biden signed an executive action Wednesday mandating masks and social distancing on federal property.
In his memo to staff, Klain wrote that Biden will launch his 100-Day Masking Challenge on Day One "by issuing a mask mandate on federal property and inter-state travel — part of a critical effort to begin to bend the curve on COVID."
As of Wednesday afternoon, Johns Hopkins University confirmed that the death toll from COVID-19 in the U.S. surpassed 405,000 people.

Support for underserved communities
Biden signed another executive order on "advancing racial equity and support for underserved communities through the federal government." The order said that the federal government will pursue issues that have historically affected people of color and marginalized communities that are "adversely affected by persistent poverty and inequality."
"Entrenched disparities in our laws and public policies, and in our public and private institutions, have often denied that equal opportunity to individuals and communities," the executive order continues. "Our country faces converging economic, health, and climate crises that have exposed and exacerbated inequities, while a historic movement for justice has highlighted the unbearable human costs of systemic racism."

End so-called Muslim travel ban

Biden signed an executive order revoking one of Trump's first executive actions, which was to enact a travel ban on seven Muslim-majority countries. In 2017, Trump's policy had prompted immediate national protests at airports across the U.S., a scramble as lawyers tried to help travelers arriving from the targeted countries, and worldwide outrage. Biden wrote in the executive order that the travel ban was "just plain wrong."
"Make no mistake, where there are threats to our Nation, we will address them," the order read. "Where there are opportunities to strengthen information-sharing with partners, we will pursue them. And when visa applicants request entry to the United States, we will apply a rigorous, individualized vetting system. But we will not turn our backs on our values with discriminatory bans on entry into the United States."
Mobilizing the federal government to combat the COVID-19 pandemic

The executive order is meant to "coordinate a government-wide effort" to tackle the COVID-19 pandemic that has claimed more than 405,000 lives in the U.S. as of Thursday, according to Johns Hopkins. As part of the effort, the Biden administration will appoint a COVID-19 Response Coordinator who reports directly to the president.
According to the executive order, the federal government will focus on reducing the racial disparities of COVID-19, "produce, supply, and distribute" supplies including personal protective equipment, testing, and vaccines, and to also expand testing and vaccination more effectively. The government will also work to safely reopen schools, child care, and other educational institutions.
Reversing policies on undocumented people and the U.S. Census

Biden signed an executive order reversing two Trump policies from 2019 and 2020 that required the census to collect citizenship data and exclude non-citizens from being counted under the 2020 census. The order states that the census should be based on "total number of persons residing in the several States, without regard for immigration status."
Accurate census data is important because it helps determine how much political power and federal money is allocated to different communities, using statistics that will not change for another ten years.
Review existing climate regulations and revoke permit for Keystone XL pipeline

Biden is tackling the climate crisis with another executive order revoking the 2019 permit that allowed the Keystone XL Pipeline to be constructed. The permit has alarmed environmental advocates and Native tribes for years. The robust executive order has plans to combat environmentally harmful practices, "hold polluters accountable" and to create "well-paying union jobs as part of the climate solution."
In the executive order, Biden instructs government agency leaders to review any policies enacted during Trump's presidency that defy Biden's plan to "listen to science," reduce greenhouse gas emissions, and allow access to clean air and water.


Immigration reform: a path to citizenship and reuniting separated families

Biden proposed to Congress an immigration bill that could provide approximately 11 million people living in the U.S. without legal status an eight-year path to citizenship, according to transition officials who spoke to The New York Times and other outlets. The legislation, which would help fulfill one of Biden's campaign promises to Latinx and other immigrant communities, is a marked shift from the Trump administration's harsh policies and significant number of deportations and apprehensions at the U.S. border during the last four years. The Obama-Biden administration also faced criticism from immigration reform advocates for a high number of deportations — Obama even earned the nickname "deporter-in-chief." Biden said during the 2020 campaign that their broad deportation policy was "a big mistake."
⁠
The AP reported that under the terms of the bill, undocumented immigrants who pass criminal background checks, pay taxes, and meet other requirements would become eligible for a green card after five years, with a three-year path to naturalization thereafter. DREAMers, agricultural workers, and people under temporary protective status are eligible for green cards even faster if they meet certain other criteria per the draft of the bill.
Biden has also said he'd immediately set to work on creating a federal task force to reunite families separated under the Trump administrations' brutal "zero tolerance" border policy. He said he would take actions to create the task force on his first day in office, and an executive order with more details on reuniting the families is expected within his first ten days.
Extend moratorium on evictions and student loan payments
Biden asked the Department of Education to extend existing suspensions on student loan payments and evictions that were set to expire at the end of January. CNN reported that Biden's proposed "American Rescue Plan," if passed by Congress, would extend the moratorium on evictions until September 2021.
"This list is not comprehensive," Klain wrote at the end of the memo on January 16, adding that more actions will be announced in the coming days, including executive orders, presidential memoranda, and directives to federal agencies.
"President-elect Biden will take action — not just to reverse the gravest damages of the Trump administration — but also to start moving our country forward," the incoming chief of staff wrote. "Of course, these actions are just the start of our work."
He also wrote that "while the policy objectives in these executive actions are bold, I want to be clear: the legal theory behind them is well-founded and represents a restoration of an appropriate, constitutional role for the President."