Biden: Texas Is "Tougher" Than COVID-19, As Dems Eye Red Swing States
In the most unconventional election in modern history, Joe Biden is vying for red swing states that President Trump won in 2016.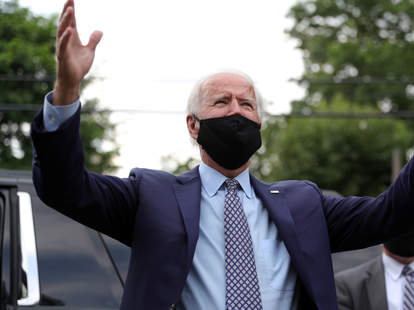 In former Vice President Joe Biden's first general election ad in Texas, he's appealing to voters in a red state that's been engulfed by a resurgence of COVID-19 cases.
The ad comes as Democrats are reportedly encouraging presumptive Democratic nominee Biden to aim for red swing states, including Texas, Georgia, and Ohio, as President Trump's poll numbers slip during the coronavirus pandemic. Texas, a longtime Republican stronghold once described by The New Yorker as "America's future," hasn't gone for a Democratic presidential candidate in more than 40 years.
"This virus is tough, but Texas is tougher," Biden said in the 60-second ad. "We can stop the spread, but it's up to all of us to do it."'
In Texas, Gov. Greg Abbott (R) has walked back reopening plans as the state and the nation has consistently logged record one-day COVID-19 case numbers. The virus has killed more than 135,600 people in the U.S. as of Tuesday and has become a central focus of the presidential campaign. President Trump has been repeatedly criticized for his administration's botched response to the crisis, which has led to historic levels of unemployment, and he has continued to deflect blame at rallies and press briefings. 
Biden's ad is part of a four-state buy slated to appear starting Tuesday on cable television, with spots specifically designed for Texas, Arizona, Florida, and North Carolina, CNN reported. A campaign spokesperson told the Texas Tribune that the package cost "mid-six figures." 
The New York Times reported on Sunday that Biden had previously shown television ads in only six states, which all went for Trump in 2016, including Michigan, Wisconsin, Pennsylvania, Arizona, North Carolina, and Florida.
"Trump's abominable presidency, especially in the context of the total failure to confront coronavirus, makes Texas very winnable," said Rep. Filemon Vela (D) told the Times of Biden's chances. 
 
In the ad, Biden advises viewers to wash their hands, wear masks, and practice social distancing. Over the weekend, President Trump publicly put on a mask after months of declining to wear one during a visit to the Walter Reed National Military Medical Center in Bethesda, Maryland.
"I want every single American to know -- if you're sick, if you're struggling, if you're worried about how you're going to get through the day, I will not abandon you," Biden said. 
 
The Tribune reported that a poll on Sunday placed Biden 5 points ahead of Trump in Texas, while a CBS News survey found Trump leading in the state by one point. The latter survey showed Biden leading in other Sun Belt states hard hit by the outbreak, including Florida, and also found the candidates tied in Arizona.
As November draws closer, Trump has begun painting Democrats as radical leftists led by Biden, who was one of the most moderate 2020 candidates to run. 
In 2016, Trump defeated Hillary Clinton in Texas by 9 percentage points after polls ahead of the election showed him narrowly leading in the state. Jimmy Carter was the last Democratic presidential candidate to win the state in 1976.