Biden & Trump Both Visit 9/11 Memorial In A Somber Year For America
Democratic presidential candidate Joe Biden and President Trump visited a 9/11 memorial in Pennsylvania to commemorate the 19th anniversary of the terror attacks, but only Trump gave a speech.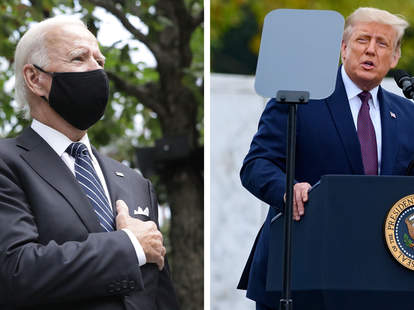 President Donald Trump and Democratic presidential candidate Joe Biden on Friday visited the same Pennsylvania memorial site for the anniversary of the September 11 terrorist attacks, but they did not cross paths. Both men paid respective tributes to the lives lost 19 years ago in Pennsylvania, Virginia, and New York, as the country has continued to reel from the grief of the first pandemic it's seen in more than a century.
At the 9/11 memorial held at the Flight 93 National Memorial in Shanksville, PA, President Trump honored and recognized the 40 passengers and crew who died in a crash after standing up to the hijackers who had taken over the flight.
"In this Pennsylvania field, the 40 intrepid souls of Flight 93 died as true heroes. Their momentous deeds will outlive us all," the president said.
"Our sacred task, our righteous duty, and our solemn pledge is to carry forward the noble legacy of the brave souls who gave their lives for us 19 years ago," Trump continued. "In their memory, we resolve to stand united as one American nation, to defend our freedoms, to uphold our values, to love our neighbors, to cherish our country, to care for our communities, to honor our heroes, and to never, ever forget."
Biden visited the site later Friday, following a visit to the former site of the World Trade Center in New York City.
Before he boarded the plane to New York, the former VP said he wouldn't "be making any news today," to honor the victims of the attacks.
"I'm not going to talk about anything other than 9/11." He added: "We took all our advertising down. It's a solemn day, and that's how we're going to keep it, okay?"
Biden joined around 200 people at the National September 11 Memorial & Museum, including Vice President Mike Pence, Gov. Andrew Cuomo (D-NY), and Senate Minority Leader Chuck Schumer (D-NY) for the memorial ceremony. During the ceremony, families in pre-recorded videos showed families reading the names of the nearly 3,000 people killed in the attacks. 
In New York, Biden spoke with a 90-year-old woman who had lost her 43-year-old son in the attacks. She handed Biden a photo of her late son, to which he responded by sharing his experience of losing his son Beau Biden, saying, "It never goes away, does it?'"
Biden later traveled to the Flight 93 National Memorial to pay his respects, laying a wreath of white flowers by the wall of victims' names and speaking with the families of three of the victims with his wife Dr. Jill Biden. (President Trump reportedly also laid a wreath of flowers in front of the memorial, but did not meet with families during his visit.) 
They also traveled to a local fire station, met and posed with several crowd members, and gave out sweets and beer.
According to Pittsburgh's WTAE, previous ceremonies honoring the heroes of Flight 93 had been public, but this year's was held privately to a limited crowd in order to adhere to public health guidelines amid the pandemic.
Officials from Biden's campaign also confirmed to several sources Thursday that they would pull Biden's television ads off air on September 11 to respectfully commemorate the deadly attacks. 
President George W. Bush and opponent John Kerry set the precedent of pulling election-related television ads on September 11 in 2004, and many future candidates followed including Barack Obama, John McCain, and Mitt Romney, as well as Hillary Clinton and Trump in 2016, Politico reported. 
Trump's 2020 campaign reportedly didn't respond to inquiries on whether he had suspended campaign ads.