"Birtherism Is Racism": Michigan Gov. Whitmer On Kamala Harris & The 2020 Race
In an interview with NowThis, Gov. Gretchen Whitmer says Michigan is "absolutely a swing state" where voters should not be taken for granted.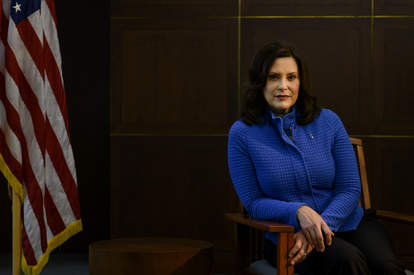 Michigan Gov. Gretchen Whitmer, who was on the shortlist of candidates to be Democratic presidential candidate Joe Biden's running mate, is speaking out against racist and sexist attacks on Sen. Kamala Harris, who officially joined the ticket last week.
"I think it's important that we call it for what it is: birtherism is racism," Whitmer said in an Instagram Live interview with NowThis on Monday morning, when asked about the immediate "birther" attacks launched on Harris by Republicans and propagated by President Trump. (The baseless claim held that Harris isn't eligible to be vice president because her parents are immigrants, in an echo of the racist birther theory Trump spread about President Obama starting in 2011.)
"Let's just be blunt about it. Let's take it on, and show that we can do better, and I believe, we deserve a lot better," Whitmer said. "I think each time they show who they really are, they're actually maybe doing us a favor because they're energizing us and they're focusing the world on what the real differences are here, and they are fundamental."
Gov. Whitmer will address the Democratic National Convention during its first night on Monday, and said she will speak about "party unity and acknowledging some of the MVPs, people who have been at the frontlines of the [coronavirus] crisis and put their lives at risk to protect everyone else." Other speakers include former First Lady Michelle Obama and former presidential candidates Vermont Sen. Bernie Sanders and Minnesota Sen. Amy Klobuchar.
Watch the full interview and continue reading below:
The convention was originally slated to take place in Milwaukee, Wisconsin, and will now be an all-virtual event streaming on many platforms. Whitmer will give her speech from a United Auto Workers hall in Lansing, Michigan.
Regarding the conversations around "ambitious women" that occupied political punditry before Biden announced his choice, and the selection process in general, Whitmer said: "I think one of the frustrating things was seeing someone on the news that I know to be a progressive and an ally referred to as 'The Bachelor.' This was—this is a list of phenomenally accomplished leaders, right. They all happen to be women, but leaders first and foremost."
She added: "I think that it's really important to recognize every one of us jumped in with enthusiasm for this ticket and would have done that no matter which person Joe Biden had selected. … I get to keep my dream job as governor in the state that I love with three generations of my family here, and have two phenomenal new best friends in the White House. That's something that I'm really excited about."
On Sen. Harris specifically, Whitmer said, "I think that Kamala Harris brings incredible energy, vision, talent, and she's going to be a phenomenal vice president to Joe Biden."
RELATED: "They're Going To Engage In Lies": Kamala Harris Responds To Trump's Birther Attacks
The governor also expressed her respect for fellow DNC speakers and rising Demoratic Party leaders, including New York Rep. Alexandria Ocasio-Cortez, when talking about the sexism women politicians face.
"One of the things that I appreciate in the time in which we're now living is that people like AOC get up on the floor of the House and call out a bully, and use his words so people see what she has to deal with, just by fighting for her constituents and being a voice for so many people right across this country," Whitmer said.
Here are more excerpts from the NowThis Q&A (full video above), including how Gov. Whitmer thinks this is "maybe one of the most important elections since the founding of our nation," and why Democrats shouldn't take Michigan voters for granted.
Q: The topic everyone's talking about: Trump's attacks on vote by mail and the Postal Service. There were protests outside the Postmaster General [Louis DeJoy]'s house this weekend. How is Michigan working to make sure everyone can safely vote this year?
WHITMER: In 2018, a couple things happened: we had a huge turnout. President Trump had just won MI by less than 11,000 votes, yet I won by almost 400,000 votes. We had a big turnout, and we also amended our constitution to make it easier for people to vote-by-mail. We elected a fantastic Secretary of State in Jocelyn Benson and a great Attorney General by the name of Dana Nessel and the three of us are absolutely locked arm-in-arm, figuratively speaking, to make sure every vote gets counted. We're creating boxes for people to drop off, and we're going to go to court to protect the USPS and our constitutional right to vote.
Q: What would you recommend people do if they're concerned? Where should they go to find out more information?
WHITMER: Get online. In Michigan, people can apply for their absentee ballot starting on August 20th. Get that ballot in hand as quickly as possible, fill it out, and then drop it off. I would love to say throw it in the mail, and if you do it quickly enough, you should have confidence that you can throw it in the mail and it'll be okay, but I'm going to drop mine off. I've already ordered mine — I did it in the primary — so I think that it's really important people get familiar with what the law is in their state.
Q:  You mentioned that Trump won by this razor-thin margin in 2016...less than 11,000 votes in Michigan. And because of the importance of your state in the electoral college, those 11,000 votes are incredibly important. So do you think it is a swing state this year, is it in play for the Democrats?
WHITMER: It absolutely is a swing state. I talked to a couple different reporters yesterday, and one was citing a poll that [had Biden up] 4 points, and one was citing one that had 11 points. You know what, it's somewhere in between. Michigan always tightens up after Labor Day, after both conventions...we'll see people begin to commit who haven't committed yet, which is hard to believe in this environment, that there are people who are making a decision, but there are. So we gotta show them the respect of showing up, putting on a platform which Joe Biden and Kamala Harris have, that speak to those dinner table issues that people are so concerned about. But we gotta work until the last vote is cast and the last poll is closed, and that's why it's so important that Michigan is not taken for granted, because it's not a lock for anyone. It's going to be a dog fight.
Q: Michigan was one of the coronavirus hotspots earlier this summer; the rates of infection have since slowed down. What did your administration do to lower those rates?
WHITMER: Well, I know that this isn't the predominant belief across the country at the moment, but: we embraced science. I hate to be flip about it, it's very serious, but the fact of the matter is, states that followed the science, states that listened to the epidemiologists and the public health experts, and then got aggressive were the ones that were able to flatten the curve. Studies have shown our actions saved thousands of lives. I think other states who didn't take it as seriously or didn't follow the science are now seeing that when the health of your people is in jeopardy, your economy suffers. They are connected. But you have to get your hands around the health crisis before you can have a hope to get your arms around the economic crisis. So what we're seeing across the country and the pain that's happening is because the Trump administration never got their arms around it at the beginning, and that's what we tried to do at the state level in Michigan.
Q: Michigan has the biggest Lebanese community in the U.S. With the recent tragic explosion in Beirut, what's your message to that community, and what do you want people outside Michigan to know about this community?
WHITMER: First, I'll just say, one of the greatest things about Michigan is that our auto industry built the middle class, and it's benefited all of us. But it also drew people in from all around the world, who just wanted a good job, and good schools for their kids, and a high quality of living. That's the story of Michigan. We are incredibly diverse; we have this huge Middle Eastern population and Lebanese in particular. So when the explosion happened in Beirut, I wanted to show my support because I know that there are so many people in my state right now who were worried about relatives, perhaps lost someone in the explosion or simply was worried about the economy and the government .. we wanted to show solidarity and support.
You can watch the Democratic Convention live from 9-11 pm ET every night from August 17-20 on NowThis Facebook, Twitter, and YouTube, or the Dem Convention website.