Caitlyn Jenner Announces Run For California Governor
Jenner is a Republican who has described herself as "a #lgbt fiscal conservative and socially liberal candidate."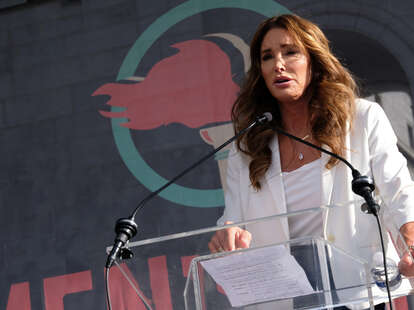 Caitlyn Jenner has announced that she is running for governor of California. Jenner, a 71-year-old Republican, is likely one of many gubernatorial hopefuls looking to challenge Gov. Gavin Newsom (D) in a recall election, as currently at least six petitions have been filed seeking his recall.
Jenner, who has described herself as "a #lgbt fiscal conservative and socially liberal candidate," formally announced her run Friday after multiple reports in recent weeks suggested she would.
Jenner, a former Donald Trump supporter, has been a recent critic of Newsom and his handling of COVID-19, including lockdown measures and a widely lambasted multi-household dinner he attended in November 2020.
But Politico reported that Jenner has infrequently voted in statewide elections. She reportedly did not vote in the 2018 gubernatorial election that handed Newsom a landslide victory, or in the 2016 presidential primary and general elections that led to President Trump's Electoral College win over and Democratic opponent Hillary Clinton.
"California has been my home for nearly 50 years. I came here because I knew that anyone, regardless of their background or station in life, could turn their dreams into reality," reads a statement on Jenner's campaign website. "But for the past decade, we have seen the glimmer of the Golden State reduced by one-party rule that places politics over progress and special interests over people. Sacramento needs an honest leader with a clear vision."
Since 1911, there have been 55 attempts to recall a sitting governor in California, with the motion being successful only once when Republican Arnold Schwarzenegger defeated former Gov. Gray Davis (D). The Associated Press reported that the recall election in California is "likely" to happen this year.
Jenner is known by many Americans for her appearance on long-running reality show "Keeping Up With The Kardashians" alongside her then-wife Kris Jenner. She was also an Olympian decathlete in 1976 and is the parent of Brody Jenner, also a former reality television star.
Jenner has spoken more frequently on LGBTQ+ issues in recent years, eventually withdrawing her support for Trump in 2018 over his anti-trans policies. But she has faced criticism from within the LGBTQ+ community for her perceived ignorance on the realities of more vulnerable members.
Shelby Vaculin contributed to this report.