Caitlyn Jenner Says She Wants To "Save" California Even Though Her Rich Friends Are Leaving
Jenner, a former Olympian and reality TV star, spoke to Fox News' Sean Hannity in her first TV interview since announcing her bid for California governor.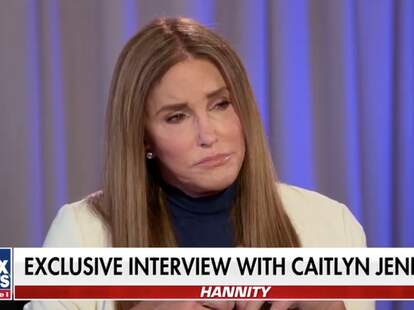 Caitlyn Jenner sat down for her first TV interview — with Fox News' Sean Hannity — since announcing her run for California governor in the state's upcoming recall election.
During the interview on Wednesday, the 71-year-old Republican said she understands that she's "an outsider," but if elected governor, hopes to leverage "the same spirit" she had as an Olympic decathlete. The conversation took place inside her Malibu-area hangar.
"I'm in a race for solutions," Jenner told Hannity, echoing themes from a campaign ad she released on May 3.
In the three-minute video, Jenner says: "I came [to California] with a dream 48 years ago to be the greatest athlete in the world. Now I enter a different kind of race, arguably my most important one yet: to save California."
In her nascent campaign thus far, Jenner has cast California as a once desirable place to live. In one of the most memorable moments from the Fox interview, Jenner said her friends are leaving California because they don't want to see people who are homeless on the street.
"Actually, my hangar, the guy across — he was packing up his hangar," Jenner said. "I said, 'Where are you going?' And he says, 'I'm moving to Sedona, Arizona. I can't take it here anymore. I can't walk down the streets and see the homeless.'"
But Jenner said she doesn't want to leave. "Either I stay and fight, or I get out of here," she told Hannity. Jenner's comment had the term "Sedona" trending on Twitter on Thursday morning.
Her comments about rich friends jetting out of California also reveal that Jenner, who is trans, is "desperately out of touch" with the issues facing the LGBTQ+ community, specifically trans people, according to GLAAD's rapid response manager, Mary Emily O'Hara.
"With the number of trans people and LGBTQ youth, especially, who experience homelessness, [Jenner's comments were] deeply offensive to many in the community," O'Hara told NowThis Thursday. "I don't think you can separate Jenner's stance as a wealthy elite from her unfortunate misunderstandings of what everyday life is like for the majority of transgender youth in America."
During the Fox interview, Jenner also doubled down on her recent controversial comments opposing trans girls and women competing on sports teams as their gender.
When asked by Hannity about her opinion on legislation targeting trans athletes' participation in youth sports, Jenner said she is sticking with her position.
"We have to make sure that the integrity of girls' sports is there," Jenner said. "But there's more to it than just what I said, 'cause I just said, 'biological boys in sports.' I think in the future I will explain more of that." (Jenner did not further explain during the interview.)
While reaffirming her support for anti-trans legislation, Jenner recognized that people "struggle big time" with "trans issues."
"Our suicide rate is 9 times higher than the general public," Jenner said. "For me to be a role model for them, to be out there — I am running for governor of the state of California. Who woulda ever thunk that?"
Jenner has used the same rhetoric on "fairness" in sports as Republicans who are pushing to enact restrictions on sports participation in their states. But the assertion that trans athletes, and trans girls in particular, have an advantage in sports is not grounded in science, researchers say.
There are at least 111 proposed bills across the country that target trans youth, including those that seek to restrict trans youth's ability to play sports and access gender affirming health care. In a poll of 800 LGBTQ+ adults conducted by GLAAD and Pathfinder Opinion Research between April 15 and April 20, 76% of respondents said anti-transgender bills "make them feel unsafe in their own community."
"What's really disheartening about Caitlyn Jenner's statements as such a high-profile trans woman is that she has been able to benefit from affirming health care, and there are so many trans youth across the country who might have that option taken away from them when they need it," O'Hara said.
States including Alabama, Arkansas, and Tennessee have passed legislation banning students from playing on sports teams that align with their gender identity. In April, Arkansas became the first state to pass a law prohibiting doctors from prescribing gender-affirming treatment for trans youth.
On other policy matters, Jenner said she has "conservative economic values" but is more progressive on "social issues." Jenner said she's "all for the wall," referring to the steel wall that former President Donald Trump campaigned on in 2016 and tried to build along the U.S.-Mexico border during his singular term. (Jenner withdrew her support for Trump in 2018 in the wake of his anti-trans policies, but said during the Fox interview that Trump "did some good things.") As one of his first actions in office, President Joe Biden stopped construction on the border wall.