California Will Allow Everyone To Vote By Mail In November Election
The spread of the coronavirus throughout the U.S. has caused voting rights advocates to push for making voting more accessible.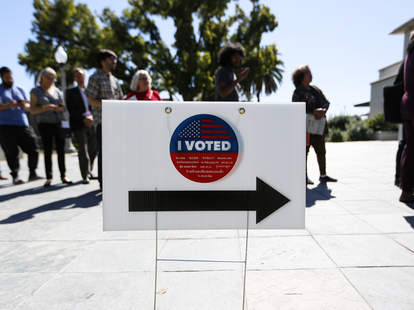 Getty Images/Voters line up to cast ballots at a polling station in Los Angeles, California
California is allowing all registered voters to vote by mail in the general election as a result of the coronavirus outbreak.

Gov. Gavin Newson signed an executive order on May 8 requiring election officials to send mail-in ballots to all registered voters for the election on November 3. Citing health concerns prompted by the coronavirus, Newsom signed the executive order to ensure that "Californians can exercise their right to vote in a safe and accessible manner," according to a release. However, in-person voting sites will remain open and accessible to those who need them, including people experiencing homelessness.
California isn't the first state to institute voting by mail statewide (Colorado, Hawaii, Oregon, Washington, and Utah already mail out ballots to registered voters for every election), but it is the largest thus far and the first to do so in response to the virus. Along with the five states that mail out ballots for every election, 34 other states currently provide mail-in ballots to any registered voter who requests one. 
As the coronavirus spread throughout the U.S. health and safety concerns grew for those who went out to polling locations in states like Wisconsin during the primary elections. Several primary elections have also been postponed.
Considering the risks of voting in person, voting rights advocates have pushed for making voting more accessible. In April, former First Lady Michelle Obama announced her support for expanded voter access via voting by mail, early in-person voting, and online voter registration. Following Newsom's executive order, former Secretary of State and 2016 presidential candidate Hillary Clinton tweeted that she hopes other states follow California's lead. 
I hope other governors around the country follow @GavinNewsom's lead. No voter should be forced to choose between their safety and exercising their civic duty this fall. https://t.co/kNkSQ5quw8

— Hillary Clinton (@HillaryClinton) May 8, 2020
Republicans, including President Trump, have pushed back against expanding voting by mail. Trump has said a nationwide mail-in voting system is "RIPE for FRAUD." Trump spokesperson Tim Murtaugh also tweeted on Friday that California's order is a  "thinly-veiled political tactic" put in place to "undermine election security."
Research has found that voter fraud is very rare. The New York Times also recently cited data that found Colorado's universal mail-in policy has significantly increased voter turnout since it was enacted in 2013.