Can Democrats Defang Mitch McConnell? It's Up To Georgia's Voters & Senate Runoff Races
If Democrats win both Georgia Senate runoff races, Vice President-elect Kamala Harris could cast tie-breaking votes in the Senate to pass legislation on the Biden team's key focus areas, including economic recovery and the climate crisis.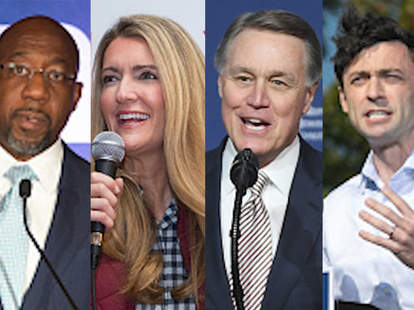 All eyes are on Georgia.
Officials are recounting the state's votes by hand for the presidential race, where President-elect Joe Biden has been projected to become the first Democrat to win in nearly 30 years. The recount must be completed by November 20.
But two Senate races headed to a runoff in January will determine which party controls Congress' upper chamber — and therefore, how much Biden can get done legislatively as president.
While Republicans continue to push baseless voter fraud claims in line with President Donald Trump's attempted coup, they're backing Georgia incumbents Sens. Kelly Loeffler and David Perdue. A GOP victory would enable Senate Majority Leader Mitch McConnell, a relentless obstructor of Democrat-led legislation, to keep his current role.
Georgia has not elected a Democratic senator in 20 years, so challengers Jon Ossoff and Rev. Raphael Warnock face a tough task — but not an impossible one, as both are riding the success of forcing the incumbent senators into runoffs by denying them an outright majority-vote win (more than 50%) under Georgia law.
If Democrats do win both Georgia races, the makeup of the Senate will be 50 Democrats and 50 Republicans. If any votes end up in a tie, the vice president can cast a tie-breaking vote — and that role will fall to California Sen. Kamala Harris, the Vice President-elect. She'd likely cast tie-breaking votes to help pass legislation on the key focus areas of the Biden agenda, including addressing the climate crisis, the pandemic, and economic recovery.
"We need to reconsider this election...as the 'Doug Jones' of 2020, where we know that the essential nature of this election changes the future of our country," Stacey Abrams, former Georgia gubernatorial candidate and voting rights activist, said on "The View" Thursday. "[Democrats' win] protects health care, protects access to jobs, and protects access to justice."
Given what's at stake, members of both parties are expected to funnel "millions of dollars" into the races in the coming weeks, The New York Times reported.
Georgia has also been a central focus of voter suppression accusations, as voters waited in long lines to vote during the primary and general election this year. Abrams has said her organization Fair Fight — which has drawn substantial praise for its work in registering and mobilizing Black voters this year — has raised millions of dollars to protect voting rights in the Senate runoff elections.
So why do Georgia's races affect the whole country?
After the general election, Republicans now hold a 50-seat majority to Democrats' 48 seats in Congress. The GOP secured victories in races that were expected to be tight in states including South Carolina and Maine. Democrats flipped two seats in Arizona and Colorado with the victories of Sens.-elect Mark Kelly and John Hickenlooper, respectively, while Republicans flipped a seat in Alabama with Sen.-elect Tommy Tuberville.
Democrats held onto the House majority that they gained during the 2018 "blue wave" midterms, though the party did experience some disappointing losses that have provoked debate among its moderate and progressive members.
Georgia was the only state with both of its senators on the 2020 ballot, because Loeffler was appointed to her seat by Gov. Brian Kemp (R) last year after Johnny Isakson retired due to health problems. Loeffler, a former CEO and a WNBA team co-owner, is reportedly one of the wealthiest members to ever serve in Congress. She will face Warnock, a Baptist pastor and voting rights activist, in a special election to decide who completes the remainder of her predecessor's term. If elected, Warnock will become Georgia's first Black senator.
Warnock is senior pastor at Ebenezer Baptist Church in Atlanta, where Martin Luther King, Jr. preached, and often invokes his religion to support his progressive views. In an interview with NowThis on Election Day, he spoke of his fight to expand healthcare access in Georgia, and said it's what Jesus would do, "including for people with pre-existing conditions."
In the other runoff, 33-year-old Ossoff faces Sen. Perdue, who is competing for a second term. Ossoff has advocated for strengthening the Affordable Care Act, whereas Sen. Perdue has voted against it four times. If elected, Ossoff would become America's first millennial senator.
Perdue was accused of anti-Semitism for running a Facebook ad that digitally manipulated his Jewish opponent's nose to appear larger. Perdue also mocked the name of his colleague, Sen. Harris, at a rally for President Trump in October — a racist move that prompted people to donate millions of dollars to Ossoff.
Both Perdue and Loeffler have been accused of insider trading for selling off millions in stock after a security briefing on the pandemic.
On November 9, they called on Georgia Secretary of State Brad Raffensperger to resign, alleging without evidence that a lack of transparency and mismanagement hindered "honest and transparent elections."
Raffensperger, also a Republican, brushed off the allegation as "laughable."
The runoff elections are set for January 5, and new voters in Georgia can register through December 7. Early voting starts on December 14.
Versha Sharma and Kavish Harjai contributed to this report.