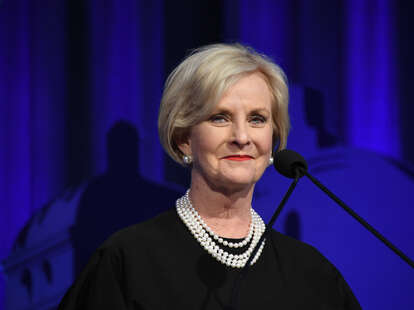 The widow of late Republican Sen. John McCain, a 2008 presidential nominee, has endorsed Democratic presidential candidate Joe Biden over President Donald Trump in the 2020 race.
McCain discussed her endorsement of Biden on several broadcast networks Wednesday morning, telling Good Morning America, "I want a President who has my back on things."
In a series of tweets Tuesday, McCain wrote, "There's only one candidate in this race who stands up for our values as a nation, and that is @JoeBiden."
McCain added, "Joe and I don't always agree on the issues, and I know he and John certainly had some passionate arguments, but he is a good and honest man. He will lead us with dignity."
On Twitter, Biden replied, "Cindy — I'm deeply honored to have your support and your friendship. This election is bigger than any one political party. It requires all of us to come together as one America to restore the soul of the nation. Together, we'll get it done."
Trump on Wednesday criticized McCain's endorsement of his opponent, tweeting, "I hardly know Cindy McCain other than having put her on a Committee at her husband's request. Joe Biden was John McCain's lapdog. So many BAD decisions on Endless Wars & the V.A., which I brought from a horror show to HIGH APPROVAL. Never a fan of John. Cindy can have Sleepy Joe!"
Trump has publicly criticized John McCain, who was the Republican party's 2008 presidential nominee, on many occasions. In 2015, Trump mocked McCain's prior service in the Vietnam War, saying, "He was a war hero because he was captured. I like people who weren't captured ... He lost and let us down. I've never liked him as much after that. I don't like losers."
RELATED: "It Was A Hoax," "I Say What I Say": Trump Attacks Press For Asking About Military Insults
In 2017, McCain, who had been diagnosed with brain cancer, was one of a few Republicans to vote against the Senate's legislation designed to repeal and replace the Affordable Care Act. The Senate voted 51-49 against the legislation.
After McCain died in 2018, Trump continued to attack his memory. During a 2019 public appearance at an Army tank manufacturing plant in Ohio, Trump appeared to complain that John McCain did not come back from the dead to thank him for the funeral Trump held for him.