Congress Finally Approves Funding For Gun Violence Research
It's the first time Congress has funded the issue in decades.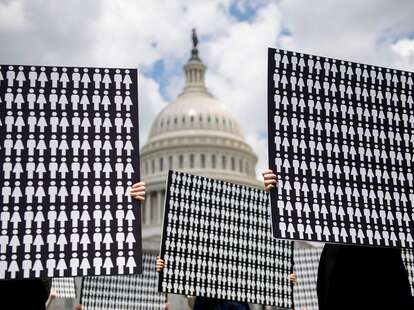 Congress just passed a sizable spending bill that includes $25 million for federal gun violence research, and it's the first time in 20 years that they have allocated funds for the issue.

"With this investment, the best public health researchers in the country will be put to work to identify ways to reduce injury and death due to firearms," House Appropriations Committee chair, Rep. Nita Lowey said in a statement.

The bill, which was passed on Tuesday, sets aside $25 million for gun control research to be split evenly between the Centers for Disease Control and Prevention (CDC) and the National Institutes of Health.

The CDC hasn't conducted firearms research for decades, due in part to the Dickey Amendment, which was passed in 1996 and named for late Republican Rep. Jay Dickey. Though the amendment doesn't explicitly ban federal funds for gun research, it does say, "none of the funds made available for injury prevention and control at the Center for Disease Control and Prevention may be used to advocate or promote gun control." But before his death in 2017, Dickey reversed his views, urging the government to research gun violence.

According to medical research, "among the top 30 causes of death for Americans gun violence is the least studied."

Since the bill has passed the House, it will now have to be approved by the Senate before the president can sign it into law.