Congress Passes Coronavirus Relief Package, Trump Signs It Into Law
The package from Congress promises some paid emergency leave, paid family leave, and free testing for the novel strain of coronavirus.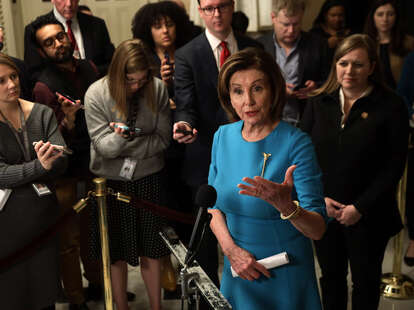 President Trump on Wednesday signed a coronavirus relief package into law, which includes provisions for paid emergency leave, unemployment help, and free testing for the novel strain of coronavirus — though there are some loopholes.
The Families First Coronavirus Response Act, which was negotiated by House Speaker Nancy Pelosi (D-CA) and Treasury Secretary Steve Mnuchin, passed the Senate on Wednesday. Though Senate Majority Leader Mitch McConnell (R-KY) had previously expressed criticism over it, he urged Senate members to "gag and vote for it anyway, even if they think it has shortcomings."
Despite that, eight Republican senators still voted against the bill: Marsha Blackburn of Tennessee, James Inhofe of Oklahoma, Ron Johnson of Wisconsin, James Lankford of Oklahoma, Mike Lee of Utah, Rand Paul of Kentucky, Ben Sasse of Nebraska and Tim Scott of South Carolina. The final Senate vote was 90-8, with Sen. Rick Scott (R-FL) and Sen. Cory Gardner (R-CO) as the only two abstentions. They are self-quarantining after coming into contact with people who tested positive for the virus, and Majority Leader McConnell did not allow remote voting for this bill.
Sen. Johnson, one of the no votes, even told the Milwaukee Journal Sentinel that people are overreacting to the virus, saying it "is not a death sentence except for maybe no more than 3.4% of our population." That would amount to more than 11.2 million Americans.
The House first passed the legislation early Saturday morning, March 14—then amendments, including limiting who will qualify for paid sick leave, were passed on Monday in response to Republican objections. The legislation will provide many workers with up to two weeks of paid sick leave if they are being tested or have tested positive for the virus. Those who have been told by a doctor or government officials that they must stay home because of exposure or symptoms would also be eligible. The bill initially offered workers their full pay but limited federal reimbursement to employers. But, under the revised legislation, payments would be capped $511 a day.
Critics note that in negotiations over the bill, some of the relief was watered down to get GOP support. The Washington Post described the loopholes added to the bill: one "allows more companies to get out of paying for two weeks of sick leave. Small businesses under 50 employees and many health care providers can now be exempted from paying sick leave."
Parents will also be eligible for up to three months of paid family leave if their children's schools have closed and they have to care for them. Forbes has a comprehensive breakdown of all the criteria people need to meet to qualify for the paid leave here.
McConnell urged Senate members to be aware of "social distancing" and to depart the chambers after they vote. The vote happened as news broke that two members of Congress, Reps. Mario Diaz-Balart (R-FL) and Ben McAdams (D-UT) had tested positive for the virus.
Congress is now at work negotiating a third aid package to help resuscitate the economy.