The U.S. Medical Supply Stockpile Is Almost Empty
The domestic coronavirus outbreak may not yet have hit its peak.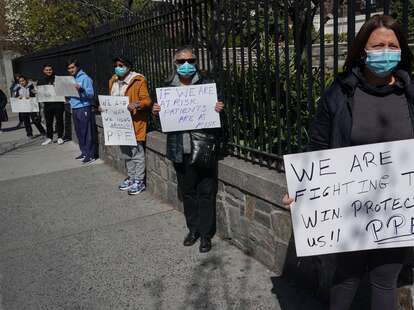 As the coronavirus consumes hospitals across the U.S., the country's stockpile of N-95 masks, surgical masks, and ventilators is nearly depleted, documents show, and the domestic outbreak may not yet have hit its peak.
The Department of Health and Human Services told the Associated Press on Wednesday that the government has deployed to state and local governments nearly all of the remaining personal protective equipment in the National Strategic Stockpile. By the AP's count, about 90% of the stockpile has already been distributed, and an HHS spokesperson said it would retain 10% for federal workers. The stockpile was formed in 1999 as a precaution to protect supply chains of computers before Y2K, according to the AP.
This news comes as governors have repeatedly called for federal aid in gaining access to medical supplies, and as President Trump gradually authorized the mass production of ventilators through the Defense Production Act (a hesitancy that critics say is motivated by his own business interests).
Related:
What Is A Ventilator, and What Companies Are Trying To Make Them?
How To Make Your Own Face Mask At Home (Without Sewing!)
Is The Coronavirus Peak Yet To Come? Our Q+A With A Former Obama Health Official
House Oversight Chairwoman Carolyn B. Maloney (D-NY) also said in a statement that the Trump administration is leaving states to "fend for themselves" in a scarce open market for supplies, facing off against each other and federal agencies in an increasingly expensive and chaotic bidding war.
"The President failed to bring in FEMA (the Federal Emergency Management Agency) early on, failed to name a national commander for this crisis, and failed to fully utilize the authorities Congress gave him under the Defense Production Act to procure and manage the distribution of critical supplies," Maloney said. "He must take action now to address these deficiencies."
In some of the hardest-hit areas including New York City, field hospitals are popping up as a potential solution for patient overflow.
Medical personnel are also attempting to purchase their own supplies, independent of government assistance. ProPublica reported that a nurse in New Jersey who crowdfunded $12,000 to afford essential supplies like masks was temporarily suspended by her employer. The employer told ProPublica that the suspension ended Monday but that "no employee is allowed to distribute unauthorized medical supplies within the hospital." The nurse's coworkers told ProPublica that they are dangerously lacking key supplies.
Earlier this week, the New York Times reported that Trump's trade adviser Peter Navarro warned the administration in January that more than half a million Americans could die because of the coronavirus. In key early months of the domestic outbreak, Trump compared the virus to a flu outbreak and eventually declared a national emergency on March 13. On March 31, Trump signed into law a $2 trillion relief package.
As of Thursday, more than 451,000 COVID-19 cases have been confirmed in the U.S., including nearly 16,000 deaths, according to the Johns Hopkins University tracker.