Trump Was Reportedly Warned in January That 500K Americans Could Die From COVID-19
Trump's trade adviser Peter Navarro reportedly sent memos warning of the high human cost of the coronavirus as the President downplayed the crisis.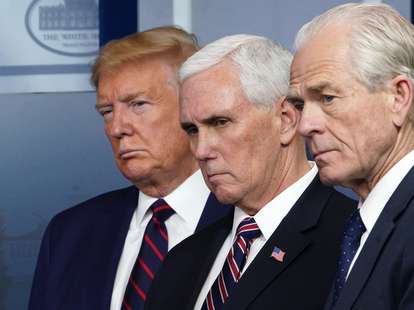 U.S. President Donald Trump, Vice President Mike Pence and Director of Trade and Manufacturing Policy Peter Navarro during the daily coronavirus briefing at the White House on April 2, 2020, in Washington, DC.
The Trump administration was reportedly warned in January that more than half a million Americans could die because of the coronavirus.
A memo from Trump's trade adviser Peter Navarro obtained by The New York Times and dated Jan. 29 is the bleakest known early warning to the administration of the impending crisis. The memo was circulated in the West Wing as Trump continued to downplay the risks of coronavirus. He announced travel restrictions from China on Jan. 31.
The news of the memo comes as the Trump administration has come under fire for its slow and patchy response to the outbreak — as a new report found the U.S. has understated the COVID-19 death toll. Other recurring problems have included the country's bungled testing rollout and mass shortage of critical medical equipment.
RELATED:

Another memo from Navarro dated Feb. 23 was shared by Axios and contained similar bleak warnings, including the increasing probability of "a full-blown COVID-19 pandemic that could infect as many as 100 million Americans, with a loss of life of as many as 1-2 million souls."
The memo was reportedly distributed to the National Security Council and called for at least $3 billion in funding to "support efforts at prevention, treatment, inoculation and diagnostics" and projected the massive ongoing need for personal protective equipment, including face masks and ventilators.
The Times reported that Navarro and White House spokespeople did not respond to requests for comment.
Over the course of the following month, Trump compared the virus to a flu outbreak and eventually declared a national emergency on March 13. On March 31, Trump signed into law a $2 trillion relief package. As of Tuesday, more than 369,000 COVID-19 cases have been confirmed in the U.S., according to the Johns Hopkins University tracker, including more than 11,000 deaths.