Dem Debate: The Biggest Moments from New Hampshire
Friday's debate comes at the tail end of an absolute disaster of a week in Iowa, and four days before the 2020 New Hampshire Democratic primary.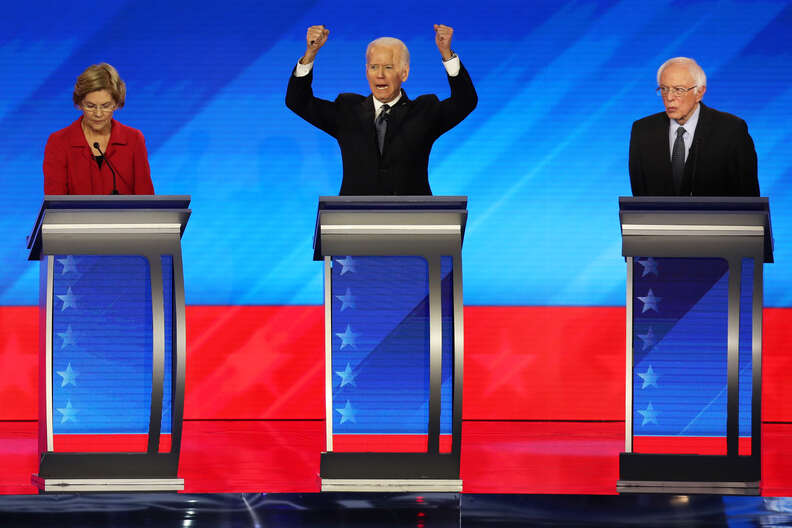 Seven presidential candidates debated Friday night in New Hampshire, where the first 2020 Democratic primary is being held on Tuesday.
Friday's debate comes at the tail end of an absolute disaster of a week in Iowa. A solid five days after the Iowa caucuses, which were supposed to kick off the Democratic primary race in exciting fashion, the race was still too close to call. The AP said on Thursday night that it was "unable to declare a winner of Iowa's Democratic caucuses because of irregularities in this year's process and the tight margin between Pete Buttigieg and Bernie Sanders."
The debacle — plus the lack of a clear winner (aside from Sanders and Buttigieg vying for the top spot) — put extra pressure on the candidates ahead of the NH primary.
Tonight's stage included former VP Joe Biden, Sens. Elizabeth Warren, Sanders, and Amy Klobuchar, former Mayor Buttigieg, entrepreneur Andrew Yang, and billionaire activist Tom Steyer.

Klobuchar and Buttigieg had a tense moment early in the night when Klobuchar brought up how differently the two of them spent their week.
"What you said, Pete, as you were campaigning through Iowa, as three of us were jurors in that impeachment hearing, you said it was exhausting to watch and that you wanted to turn the channel and watch cartoons," Klobuchar said.
She also took aim at Buttigieg for his lack of experience, saying, "We have a newcomer in the White House right now, and look where it got us."

During a town hall in Iowa, Buttigieg did indeed say, "I live and breathe politics and I find it exhausting, it's just, it gets you down, and makes you want to watch cartoons instead."
That wasn't the only confrontation for Buttigieg. Some of the moderators' questions to the candidates were aimed at Buttigieg, and candidates also found ways to bring him up on their own.
In a particularly tense exchange, Buttigieg detailed a policy he said would end incarceration for possession, expunge people jailed for those offenses, and legalize cannabis.
But moderator Linsey Davis challenged him, asking why weed arrests increased under Buttigieg's leadership.
"How do you explain the increase in Black arrests in South Bend under your leadership for marijuana possession?"
"The overall rate was lower-"
"No, there was an increase," Davis said. "The year before you were in office, it was lower."
He answered again, this time by talking about a list of issues including gang violence, housing, the economy, and health. The moderator then asked Warren pointedly, "Was that a substantial answer?" Warren answered, "No," and described her own criminal justice policies.
"We cannot just say that criminal justice is the only time we want to talk about race specifically," Warren said. "We need to start having race-conscious laws, housing for example... in education, in employment, in entrepreneurship."
After a stunning development on Friday, when the Trump administration fired two prominent witnesses in Trump's impeachment hearings (two days after his acquittal in the Senate), Biden told the crowd to stand up in Lt. Col. Alexander Vindman's honor. Gordon Sondland, now-former ambassador to the European Union, was also fired.
Biden also said Trump should have awarded Vindman with the Presidential Medal of Freedom instead of Rush Limbaugh, who was given the award at Trump's State of the Union earlier in the week.
On the issue of President Trump ordering the killing of Iranian Gen. Soleimani, Sanders cautioned against making threads to world leaders.
There are very bad leaders all over the world," he said, listing Vladimir Putin, Kim Jong-un, and others. "You cannot go around saying, 'You're a bad guy, we're gonna assassinate you.' ... And then you're gonna have - if that happens, you're opening the door to international anarchy."
"What we have got to do, which Trump does not understand ... What we have got to do is bring countries around the world together, and say you know what, let us sit down and work out our differences."
While the candidates did confront each other, they also came to each other's defense over the course of the night. Watch below:
Steyer focused on the need to beat Trump in November and how Democrats can do so. He called Trump "incompetent" and "a crook...he will always be a crook," adding that only someone with experience can win an election against him.
"We need people with experience, that's why I'm worried about Mayor Pete," Steyer said. "You need to be able to go toe-to-toe with this guy and take him down on the debate stage or we're going to lose."
"And it doesn't matter anymore that [Trump is] a crook," he continued, "and he's always been a crook, and he always will be a crook. Right now what we have to do is we have to beat him in November."
The moderators also asked about former New York City Mayor Michael Bloomberg, who has spent millions on his campaign but has yet to make it to the debate stage. (That won't be the case for long — the DNC changed the requirements, so Bloomberg will have to face the others at the next debate on February 19.)
Warren repeated her stance that billionaires should not be able to buy their way into an election.
Yang, who recently laid off some of his campaign staffers, again touted his plan for a universal basic income, as well as talked about how he would tackle the opioid crisis.
"This is not a money problem, fundamentally, this is a human problem, but money cannot be the obstacle," Yang said. "And we have to do everything in our power to actually make sure that if you're seeking treatment, you know you're not going to be sent to jail, we have safe-injection and safe-consumption sites for you. If you have a family member who's struggling, you can refer them and know that they're not going to have criminal penalties."
The Democratic candidates will meet again in Nevada later this month, with Bloomberg alongside them.