What Went Down At The "Trainwreck" Democratic Debate
The night was punctuated with shouting arguments as candidates yelled over one another and moderators struggled to gain control.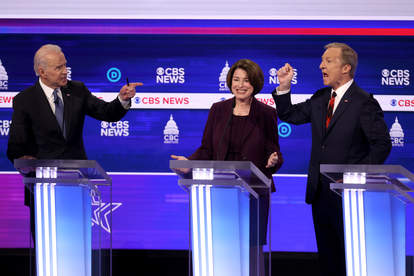 The Democrats met again in South Carolina Tuesday in what felt like a rematch to their last argument-filled debate — the night was punctuated with shouting arguments as candidates yelled over one another, with some viewers calling the debate a "trainwreck."
This was the last debate before Super Tuesday, where they will be fighting for about a third of all delegates — the most up for grabs in one night. The debate also fell ahead of this weekend's primary in South Carolina (Bloomberg is not on the ballot for that.)
This time on the stage: Sen. Elizabeth Warren, Sen. Bernie Sanders, Sen. Amy Klobuchar, former Mayor Michael Bloomberg, former Mayor Pete Buttigieg, former VP Joe Biden, and billionaire activist Tom Steyer, who missed the last debate after not qualifying.
Right off the bat, Warren again challenged Bloomberg on his alleged history of mistreatment of women. She re-upped her demands for Bloomberg to release women who previously worked for his companies from nondisclosure agreements related to sexual harassment. (After the last debate, Bloomberg announced that he would release some women from 3 NDAs if they asked.)
Then, Warren cited an anecdote from the '90s — which appears in a criminal complaint shared by the Washington Post — when Bloomberg allegedly told an employee who was pregnant to "kill it." Bloomberg said onstage that he "categorically never said it."
Warren connected the alleged incident at Bloomberg's company to an often-cited career moment of hers in 1991, when she says she was fired from a teaching job because she was pregnant.
Bloomberg dismissed Warren's comments as a "sideshow" and said he made "just a comment" or two.
After Russian interference resurfaced in the news this week, Bloomberg suggested that Russia is "helping" Sanders in the election.
"Vladimir Putin thinks that Donald Trump should be president of the United States, and that's why Russia is helping you get elected, so you'll lose to him," Bloomberg said.
Sanders responded by saying, "Hey Mr. Putin — if I'm president of the United States, you're not going to interfere."
The fact-checking on Bloomberg's stop-and-frisk policy also continued, after being a major focus of his first debate appearance last week. He repeated his stance that after the policy got "out of control," he cut stop-and-frisks by 95%. The policy, however, was reportedly reeled in after a court decision in 2013. And according to data compiled by the ACLU, the major decline that Bloomberg mentioned was only relative to the a significant increase during his time in office.
Viewers also quickly pointed out what some called a Freudian slip by Bloomberg about buying the Democratic Congress.
"All of the new Democrats that came in, put Nancy Pelosi in charge, and gave the Congress the ability to control this President, I bought — I, I got them."
A new issue that came up Tuesday was the vastly increasing concerns over the spread of coronavirus.
Asked whether they would close the U.S. borders to prevent an outbreak, Biden said he would restore funding to the CDC — Trump has proposed budget cuts to the organization. He added, "Here's the deal, I'd be on the phone with China making it clear, we are going to need to be in your country … We have to know what's going on. Insist, insist, insist."
Bloomberg echoed the need for funding. "There's no one here to figure out what the hell we should be doing," Bloomberg said of Trump's reported budget cuts to the CDC. "We don't have the organization that we need."
Klobuchar used the moment to direct people to the CDC's website instead of her own.
"I want to take this out of politics right now and talk to the American people because this is so serious. I'm not going to give my website right now. I'm going to give the CDC's website ... Because many doctors are saying it's just a matter of time before we're going to start seeing this here."
Sanders and Buttigieg at one point started a shouting argument over math. When Sanders was asked how he would pay for his Medicare for All plan, he said: "How many hours do you have?"

"It doesn't take two hours to do the math," Buttigieg snapped back.
"Let's talk about math," Sanders said.
"Let's talk about math, indeed," Buttigieg said, as the two progressed into simultaneous shouting.
The moderators were generally viewed as not being able to keep a handle on the arguing, as fights erupted constantly throughout the night.
When Steyer called out Biden for going over his time at one point, he responded, "I am not over time, you spoke over time, and I'm gonna talk!" The two went back and forth while Klobuchar tried to interject.
The Democrats will debate again Sunday, March 15.