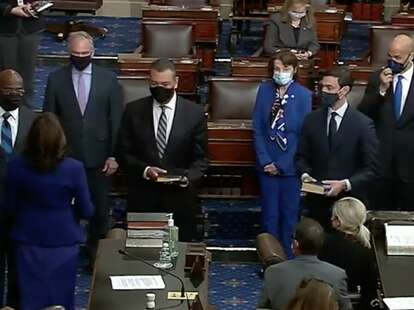 Democrats officially have a narrow majority in the Congressional upper chamber — a boon to the Biden administration's agenda.
Vice President Kamala Harris on Wednesday swore in three Democratic senators — Rev. Raphael Warnock and Jon Ossoff of Georgia and Alex Padilla of California — following the presidential inauguration. The shift in Senate control puts an end to the reign of obstructionism led by former Majority Leader Mitch McConnell (R-KY) and makes Sen. Chuck Schumer (D-NY) the new leader of the body.
Republicans and Democrats now have 50 seats each in the Senate. Democrats have the effective majority as Vice President Harris, the first woman, Black person and South Asian person to hold the role of VP, can cast tie-breaking votes per the Constitution.
Earlier this month, Warnock defeated Republican incumbent Sen. Kelly Loeffler, while Ossoff defeated Republican incumbent Sen. David Perdue, effectively giving Democrats control of the Senate. Padilla, previously California's secretary of state, was appointed by Gov. Gavin Newsom (D-CA) last month to fill Harris' Senate seat for the remaining two years of her term.
The new Senate members represent several historic firsts in U.S. government, as a new administration that has heralded diversity takes shape. Warnock is the first Black person to be elected U.S. senator in Georgia, a former Confederate state; Ossoff is the first Jewish person to be elected from the state. Padilla is the first Latinx U.S. senator of California.
Warnock, a pastor at the Atlanta church where Martin Luther King Jr. also preached, and Ossoff, an investigative journalist, support strengthening the Affordable Care Act, raising the minimum wage to $15, legalizing weed, protecting women's reproductive rights, overhauling the criminal justice system, and giving more financial relief to Americans hit hardest by COVID-19.
Padilla has been California's secretary of state since 2015, and he will hold the Senate seat until Harris' term formally ends in 2022. A child of immigrants from Mexico, Padilla, 47, has been in public office since 1999, when he was elected to the Los Angeles City Council at age 26. He served two terms in the California State Senate before being elected secretary of state. Prior to his time in office, Padilla was an aide to Sen. Dianne Feinstein (D-CA), whom he will serve alongside in Washington.
Versha Sharma and Johanna Silver contributed to this report.