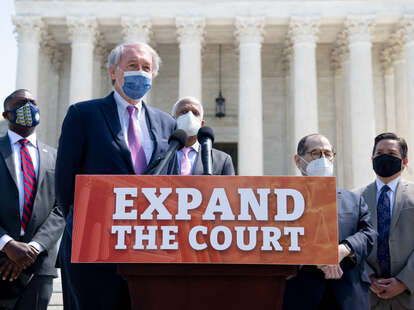 Democrats introduced a bill on Thursday to add four seats to the U.S. Supreme Court, which currently has a 6-3 conservative majority for the first time in nearly a century. While the bill is likely to face significant pushback to becoming law with a narrow Democratic Senate majority and the current filibuster in place, it faced another roadblock within the sponsors' own party: House Speaker Nancy Pelosi (D-CA) on Thursday said she had "no plans" to bring it up for a vote before lawmakers. Other Democrats including Senate Judiciary Committee Chair Dick Durbin (D-IL) have expressed hesitancy; Durbin said he's "not ready to sign on" to the bill
The Judiciary Act of 2021, led by House Judiciary Committee Chair Jerry Nadler (D-NY), subcommittee Chair Hank Johnson (D-GA), Rep. Mondaire Jones (D-NY) and Sen. Ed Markey (D-MA), would amend a federal law provision to add four members to the nation's highest court, making a 7-6 liberal-leaning majority more likely. As many supporters of court expansion have noted, it is both constitutional and with precedent for Congress to alter the number of seats on the Supreme Court — though the bench's current standard of nine justices has remained firm since 1869.
During remarks on the Supreme Court steps Thursday, Sen. Markey framed the legislation as a matter of "restoring balance" and ensuring the "bench will reflect the values of the American people." While neither Republican President Donald Trump or George W. Bush won the popular vote, they collectively installed five justices compared to former Democratic President Bill Clinton and Barack Obama's cumulative four. Clinton and Obama both won the popular vote.
"The U.S. Supreme Court is broken," Sen. Markey said. "It is out of balance and it needs to be fixed."
He continued: "Too many Americans question the court's legitimacy. The consequence is that the rights of all Americans, but especially people of color, women, and our immigrant communities are at risk."
Rep. Jones pointed to the power and influence of the Supreme Court in decisions such as Citizens United, which completely reshaped the role of corporate money in politics and the gradual erosion of the 1965 Voting Rights Act. Since the 2020 presidential election, state legislators have introduced more than 300 bills that aim to restrict voting rights. Democratic-led legislation designed to overhaul the election system and enshrine voting rights such as the For the People Act and John Lewis Voting Rights Act faces the challenge of the congressional filibuster.
"When the Supreme Court will not respect the will of the people, Congress has the power and the duty to expand the Supreme Court," Jones said. "Expanding the court is not about political parties… Court expansion is about saving our democracy."
In a separate press conference on Thursday, Pelosi said that changing the Court's number of seats is "not out of the question. It has been done before." Pelosi also pointed to President Joe Biden's recent establishment last week of a commission to study the Supreme Court, including possible expansion, which fulfilled a campaign promise.
The Presidential Commission on the Supreme Court of the United States is made up of up to 36 constitutional scholars, retired federal judges, and others who have "experience with and knowledge of" America's federal court system. A recent Vox report pointed out that the commission has drawn support from members of the Federalist Society, a conservative group that historically supports Republican-appointed justices, and is unlikely to propel a significant reform such as court expansion.
It is tasked with delivering a report to the president within 180 days of its first meeting focusing on three areas of interest: commentary and debate on the "role and operation of the Supreme Court in our constitutional system"; historical background on previous challenges to the Supreme Court system and efforts to reform the court; and an analysis of arguments both "for and against Supreme Court reform."
During a press briefing Thursday, White House Press Secretary Jen Psaki pointed to the commission when asked whether Biden supports the Democrats' new bill.
"He wants to hear from this commission that has a range of viewpoints," Psaki said.
While the idea of Supreme Court expansion is not new and has circulated most recently and fervently among progressive circles, it has gained renewed urgency as Democrats' anger over the GOP's hasty installation of Supreme Court Justice Amy Coney Barrett remains fresh. After Ginsburg's death, Markey promised exactly what he's now delivered.
In 2016, when Justice Antonin Scalia died and then-Senate Majority Leader Mitch McConnell (R-KY) refused to put Obama's nominee Merrick Garland — now Biden's attorney general — up for a vote or hearing, Republicans rallied around McConnell and the creation of a so-called precedent. The seat was left vacant for more than a year until President Trump's nominee Justice Neil Gorsuch filled it.
Republicans tried to make the argument that since 2016 was an election year, whoever won the November election should get to fill the open seat. Scalia died in February 2016 and Obama nominated Garland a little more than a month later. But after Supreme Court Justice Ruth Bader Ginsburg died in September 2020, McConnell and the Republican-controlled Senate rushed to confirm Amy Coney Barrett to the court in an unprecedented vote one week before voting concluded in the 2020 election. The confirmation went against Ginsburg's dying wish that the winner of the 2020 election would appoint her successor.
"The far-right did whatever it could to capture the court," Rep. Jones said Thursday. "The far-right will now do whatever it can to maintain its grip on power."
Markey said: "The court is broken because Leader Mitch McConnell, his Senate Republican colleagues, and Donald Trump broke it." He also called for Congress to abolish the filibuster in order to pass the legislation.
In the 1930s, Democratic President Franklin Delano Roosevelt tried and failed to expand the Supreme Court after its members tried blocking his New Deal ideas. As USA Today reported, some scholars believe the effort, while ultimately futile, made the Supreme Court more amenable to Roosevelt's policies.
The scale of Roosevelt's presidency, which guided the United States out of World War II and the Great Depression, has been compared to that of the Biden administration, which assumed power during a once-in-century pandemic and historic economic recession.
As Ezra Klein recently wrote in The New York Times, one major factor contributing to Biden's so-called "radicalism" is McConnell's recent, norm-breaking will to install Coney Barrett on the Court. That move largely destroyed the notion among Democrats that McConnell "was in any way, in any context, a good-faith actor. They gave up on him completely," Klein wrote.
What's Biden's perspective on expanding SCOTUS?
In 1983, then-Sen. Biden called the idea of expanding the court a "bonehead idea." During the 2020 campaign and since his election, however, he has taken a different approach.
Though he has not outright endorsed the idea of expanding the Supreme Court, he has shown a willingness to change his mind telling CBS' Norah O'Donnell in October that he will review recommendations on how to reform the court system because "it's getting out of whack." He has said he's "not a fan" of court expansion.
At the moment, the most immediately viable way for Biden to install a justice onto the Court is if a sitting justice dies or retires.
Trump nominated three judges to the Supreme Court, all of whom were confirmed: Justices Gorsuch and Coney Barrett, as well as Justice Brett Kavanaugh, who was confirmed despite testimony by Christine Blasey Ford before Congress that he had sexually assaulted her when they were in high school. Other women also spoke with media outlets to accuse Kavanaugh of sexual misconduct.
Kavanaugh's confirmation drew comparisons to Anita Hill's accusation of sexual harassment against Justice Clarence Thomas, who is still on the bench. Biden had a key role in Thomas' hearings as chairman of the Senate Judiciary Committee at the time, and his and Congress' treatment of Hill accelerated a national conversation about sexual harassment in the workplace that lasts to this day. Biden has been criticized for how he handled Hill's allegations, and he called her in 2019 before launching his presidential campaign to "express regret."
Ian McKenna and Versha Sharma contributed to this report.