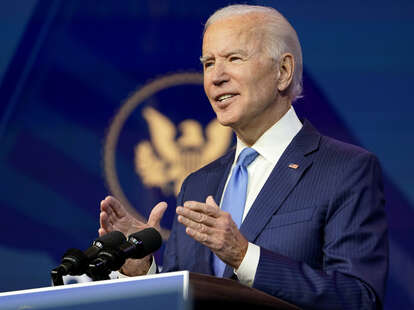 UPDATE, 5:30 p.m.: Joe Biden has officially received 270 electoral votes, formally securing the presidency as electors meet around the country.
original story:
The Electoral College is meeting on Monday to vote on President-elect Joe Biden's victory after all 50 states and Washington D.C. certified their election results. Biden has earned 306 electoral votes, more than the 270 needed to become president of the United States.
Some of the nation's 538 electors started meeting at 10 a.m. ET in states including Indiana, Iowa, and Kentucky, and voting is expected to conclude at 7 p.m. ET.
Though Americans took to the polls in November, the Constitution states that the body of the Electoral College officially decides who will be president and vice president, not a direct popular vote. A majority of states have laws or rules that the electors are bound to follow the results of their state's popular vote, however, which is a major reason why President Donald Trump trying to overturn the legitimate election results by interfering with the college was always a long shot. (Here is a full schedule of times that electors will meet across the U.S.)
Biden is set to address the nation at 8 p.m. ET from Wilmington, Delaware, about the "Electoral College vote certification and the strength and resilience of our democracy," according to his transition team. As of the most recent count, Biden's historic win during an election cycle with record turnout came with more than 83 million popular votes — at least 7 million more than President Donald Trump received.
President Trump still has not conceded the election, even though his administration has allowed Biden's team to start its transition.
Biden has nominated several members of his Cabinet, and has come under pressure to live up to his promise that their diversity reflects the American population. The incoming administration so far includes several historic firsts, including Vice President-elect Kamala Harris as the first woman, Black, and South Asian vice president. Some activists have reportedly pressured Biden to install more people of color in top positions that require Senate confirmation. So far, he's nominated General Lloyd Austin to be the first Black secretary of defense, Janet Yellen to be the first woman secretary of the treasury, and Alejandro Mayorkas to be the first Latino and immigrant secretary of homeland security.
The president's baseless conspiracy theories that Biden's win was "rigged" have resoundingly failed in court, with his campaign team and allies losing dozens of lawsuits, according to voting rights lawyer Marc Elias. The president tweeted Sunday that the election is "under protest."
The U.S. Supreme Court delivered another major blow to Trump's anti-democratic efforts on Friday in a two-paragraph order by refusing to hear a suit from Texas challenging Biden's win. Trump's three court appointees, including the most recently added Justice Amy Coney Barrett whose confirmation the GOP rushed through before the election, have not signaled any dissent to the decision.
The Electoral College's voting on Monday didn't come without interruptions. The state legislature in Michigan closed its offices because it received "credible threats of violence." Law enforcement recommended the closure, ABC News reported.
Also notable are some of the electors this year. Stacey Abrams, a former Georgia gubernatorial candidate and founder of voting rights organization Fair Fight, was an elector in Georgia. Hillary Clinton, who lost the Electoral College vote in 2016 to Trump but defeated him in the popular vote, is an elector in New York state. The Washington Post reported that all women electors would cast votes in D.C. this year.
Congress will meet on January 6 to formally count the Electoral College ballots, which is the final step in the election certification process. Biden will be sworn into office on January 20, 2021.
Also Monday, mere minutes after he formally lost the Electoral College vote, Trump tweeted that his longtime loyalist Attorney General Bill Barr will step down on December 23.