Elizabeth Warren: If Everybody Votes, Trump Will Lose. "And He Knows That."
In an interview with NowThis, Sen. Warren also said a new report written by Republicans proves that Trump lied to former special counsel Robert Mueller.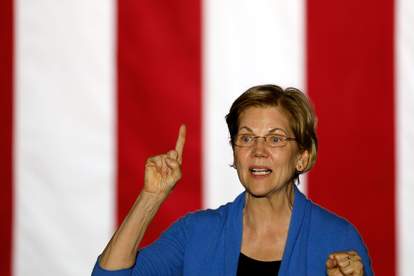 Sen. Elizabeth Warren (D-MA) is pulling no punches about whether she thinks President Trump lied during the Mueller investigation — which would be perjury, a crime under U.S. law. And she doesn't want Americans to become numb to his relentless disinformation.
"Of course Trump lied. I think that's exactly what this proves," the former presidential candidate said in a NowThis Instagram Live on Wednesday, one day after the Senate Intelligence Committee issued the final, damning chapter of its investigative report on Trump and Russia.
"No one gets really excited about this anymore because we have become just so numb to this man's lies, but I'm so glad you've raised this because we can't become numb to it," Warren told NowThis.
Trump submitted written answers under oath to Special Counsel Robert Mueller as part of the 2017-2019 Russia investigation. The president said he "did not recall" talking to longtime adviser Roger Stone in 2016 about WikiLeaks, the organization that published thousands of hacked emails from the Hillary Clinton campaign.
The Republican-led Intel Committee members concluded, in their own words, that "Trump did, in fact, speak with Stone about WikiLeaks and with members of his Campaign about Stone's access to WikiLeaks on multiple occasions." (Trump commuted Stone's sentence last month after he was convicted in 2019 on charges including lying to Congress, which Mueller and several elected officials have criticized.)
When asked by NowThis if that's evidence that Trump lied or committed perjury, Warren responded with the above answer: "Of course [he] lied."
Watch the full interview ahead of her speech at the DNC Wednesday night and continue reading more of the Q&A with Warren below:
Warren took Senate Republicans to task for writing this damning report while also helping Trump obstruct the impeachment investigation earlier this year. The Senate GOP resisted calls to bring witnesses into the trial, voting against it.
"This is about Trump, but it's also about every single senator who signed off at that impeachment and said, we're not even going to ask. … We're not going to bring in a single witness. That was so fundamentally wrong," Warren said.
She added: "And now this report comes out … they have to admit the report is right, because it's their report, but they want there to be no consequences. They hope they've waited late enough that it won't affect Donald Trump. And it won't affect their own elections. Well, that's what accountability is about. We need to hold them all accountable."
Democrats have a chance at flipping majority control of the Senate this fall, which Warren emphasized. She said the lack of witnesses in the Senate trial during which Trump was ultimately acquitted "undermines what our democracy is all about."
"So when you're out there voting, keep that one in mind. We need not only to take back the White House, we need to take back the Senate. Everyone who wants to affiliate with that Republican Party as part of how they run for office, hold them accountable up and down the ticket, vote Democrat."
Warren spoke about the recent controversy with the recently appointed U.S. Postal Service and Postmaster General Louis DeJoy cutting back on services, which would make it harder for Americans to vote by mail—during a pandemic. The president has separately admitted that he's blocking federal funding for USPS to sabotage vote-by-mail.
"[It's] not like we're surmising this, or this is some kind of conspiracy theory. Basically, this is exactly what Donald Trump said. If everybody gets to vote by mail, he's going to lose. And he knows that," she said. "So the Postmaster General comes in, he got this job because he's a big Trump supporter and raised a bunch of money for Trump. He got this job basically in order to carry out what Trump wants."
The senator commended voting rights advocates and activists who called attention to the scandal, and said public pressure and outrage eventually provoked DeJoy's agreement this week to testify before the House and the Senate. On Tuesday, DeJoy announced that he was temporarily "suspending" all changes in service at USPS.
Warren cautioned that the fight to protect the election is far from over: "What we have to do now is keep the pressure up. We need to make sure that [DeJoy's] good to his word, that he doesn't do more of it, but more to the point, that they reverse" the changes already made.
Shortly after the NowThis interview, Speaker of the House Nancy Pelosi issued a statement that said she spoke to DeJoy and he "admitted he has no intention of replacing the sorting machines, blue mailboxes and other infrastructure that have been removed." DeJoy is scheduled to testify at a Senate hearing Friday.
Q&A Excerpts
Warren also addressed the possibility of being Biden's Treasury Secretary and the unintentional endorsement from Sen. Ted Cruz (R-TX) of that appointment, former presidential candidate Michael Bloomberg having enough money to help fund ballot drop off boxes in all 50 states, and why Sen. Kamala Harris as VP candidate gives her hope. The following are excerpts; the full interview is above.
NOWTHIS: Now, say Biden does win in November—
WARREN: Yes! Let's say that again!
NOWTHIS: And we're post-Trump presidency. One of your colleagues, Sen. Ted Cruz, said on Fox News last night, "if these guys win, we're going to have Elizabeth Warren as treasury Secretary."
WARREN: Oh, thank you, Ted. Wow!
NOWTHIS: Everybody online was like, "yes, please!" So is that something you would be interested in?
WARREN: So look, I appreciate the endorsement from Ted Cruz, but we got 76 days [until the election], and where I'm focused for 76 days right now is helping make sure that we get Joe Biden and Kamala Harris into the White House...and that we take back the Senate. And then after that, I'll consult with Ted Cruz for career advice.
NOWTHIS: You were on the shortlist for VP candidates along with Sen. Harris. And because the shortlist was all women, there were a number of sexist attacks on "ambitious women" before Biden even announced who he chose. Since she has been announced, we're also seeing racist birther attacks. You faced a lot of sexism in your campaign and career. How do you deal with this, and how should Democrats respond?
WARREN: You know, I have to say watching Kamala now as our vice presidential candidate actually fills me with hope. Yeah, it's tough out there. Yeah, it sucks out there. But seeing her picture, knowing her story—I've worked with Kamala for a long, long time. Back when she was attorney general in California, and when I was still teaching and doing research back during the first financial crisis, the one in 2008. But seeing Kamala in this role and thinking about all the little girls who see Kamala doing this—and all the little boys who see Kamala doing this, all the grownups who see it. It gives me real hope that yeah, it can suck, but this is how we make progress. We get in there, and we persist, and we make change.
NOWTHIS: A couple people have proposed that instead of speaking at the DNC, [Democrats] should ask Michael Bloomberg to fund ballot drop off boxes in all 50 States. You had a memorable moment with him in the primary. Do you think he might chip in?
WARREN: You know, he's got plenty of money. It's not like this is going to make him go hungry, if he put some money into it. But I really do have to say, for all of the folks who say they really want to be able to help in our democracy: then make sure that people get the chance to vote and that they get that vote counted. That's the post office, that's the alternative ways to vote. It's also beating back on all of these voter suppression efforts. Here we are, we're 76 days out, and I'm worried. We're in litigation all around the country to try to make sure people get a chance to vote. But so much of this is grassroots, people who need to make sure they're registered and that their aunts are registered and their cousins are registered and their next door neighbor is registered. And those two guys you went to high school with are registered. That everybody's got a plan to vote.
A lot of voter suppression is what parts of it are clearly in the statute, wiping out voter rolls and so on. And we can litigate about that. But a big part of voter suppression is telling people your vote doesn't count, just doesn't matter. There's no reason to get engaged, or just making it tough—make the lines long. All of the ways that people say, "Ugh", and give up on it. So a big part of what we can do is we can make sure nobody gives up on it. You got a plan, vote early, bank that vote, that's the best, but everybody makes it to the polls who gets their vote counted.
NOWTHIS: We've already seen that President Trump is trying to plant seeds of confusion. He tweeted a couple days ago, [paraphrasing] 'We may not ever know the results, for years to come."
WARREN: He hopes. Look, what Trump is doing right now is engaging in voter suppression. Think about it. What he's doing is he's trying to say to people who have a lot of other stuff going on in their lives, where people who are afraid to get out during the COVID crisis, people who've got little children, they're trying to take care of their elderly parents. He said, "don't vote. It's not going to count"—find every way possible to keep folks from voting. And you know, voting: it's the beating heart of our democracy. It's how we make this whole system work. We want a government that reflects our values, a government that stands not just with billionaires, a government that's not racist and promoting racist values—then by golly, you gotta get out there and vote.