Elizabeth Warren Is Reassessing Her Campaign After "Disappointing" Super Tuesday
Though the Massachusetts senator picked up some delegates on Super Tuesday, she no longer has a likely, straightforward path to the Democratic nomination.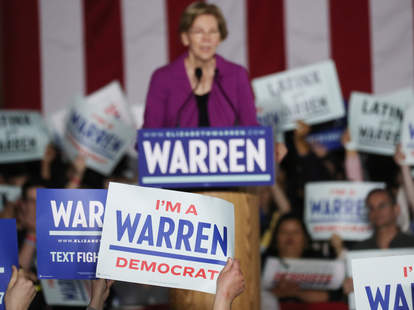 After a disappointing showing on Super Tuesday, presidential hopeful Sen. Elizabeth Warren (D-MA) is "talking with [her] team to assess the path forward," according to campaign manager Roger Lau.
Warren didn't win any states on Super Tuesday, and came in third in her own state of Massachusetts, where former VP Joe Biden eked out a surprise victory. She picked up over 50 delegates since the Democratic primary awards delegates proportionally based on the vote in each state, and results are still coming in. But given Biden's and Sen. Bernie Sanders' big wins on Tuesday, her chances of winning via outright path to the nomination have diminished.
In a Medium post on Wednesday, March 4, Lau wrote, "Last night, we fell well short of our viability goals and projections, and we are disappointed in the results. We're still waiting for more results to come in to get a better sense of the final delegate math. And we also all know the race has been extremely volatile in recent weeks and days with frontrunners changing at a pretty rapid pace. But we are obviously disappointed, and Elizabeth is talking with our team to assess the path forward."
Given the number of high-profile Democrats who endorsed Biden in recent days, giving him a boost among  moderate voters, many Sanders supporters have called for Warren to drop out and endorse the Vermont senator in order to better his chances of winning. When asked about Warren at a press conference Wednesday afternoon, this was Sanders' response (video below):
 
"We did speak on the phone a few hours ago, and what Senator Warren told me is that she is assessing her campaign. She has not made any decisions as of this point, and it is important for all of us, especially me, who has known Elizabeth Warren for many, many years, to respect the time and the space that she needs to make her decision."
'It is important for all of us...to respect the time and the space that she needs to make her decisions' — Bernie Sanders responding to a question about the status of Elizabeth Warren's campaign pic.twitter.com/HP8ADfvW6r

— NowThis (@nowthisnews) March 4, 2020
Sanders added that Warren is a "very, very excellent senator" who has "run a strong campaign." When asked about the intense online vitriol of some of his supporters toward Warren, like ones who have accused her of intentionally "stealing" votes from Sanders or who say she's out to "destroy" the progressive movement, the senator said, "I'm disgusted by it."
 
His comments echo something one of his most popular surrogates, Rep. Alexandria Ocasio-Cortez (D-NY), said a few days ago — when some were calling for Warren to drop out before Super Tuesday, after only four states had voted.
Asked AOC if she thinks — as some have called for — that Warren should drop out and endorse Sanders. "I don't think that's up to me. I think that's a very deeply personal decision," she said. Said Sanders + his supporters shoud instead be making the push to earn those votes.

— Addy Baird (@addysbaird) March 3, 2020
Some political analysts and activists have pointed out that Warren dropping out wouldn't necessarily mean all of her supporters would go to Sanders. Warren attracts both progressive and moderate voters, and polls where Democrats are asked who their second choice is show that Warren supporters can often split between Biden and Sanders.
 
We discussed the potential merits and consequences of Warren's choices on our Super Tuesday livestream. Watch:
Warren also has the added pressure of being the last remaining major candidate in the race who is a woman, which matters to a significant number of her supporters. According to Lau, she doesn't take these considerations lightly. 
 
He wrote, "All of us have worked for Elizabeth long enough to know that she isn't a lifetime politician and doesn't think like one. She's going to take time right now to think through the right way to continue this fight. There's a lot at stake for this country and the millions of people who are falling further and further behind." 
Related: Joe Biden Is Sweeping Super Tuesday States, But It's Not Over Yet