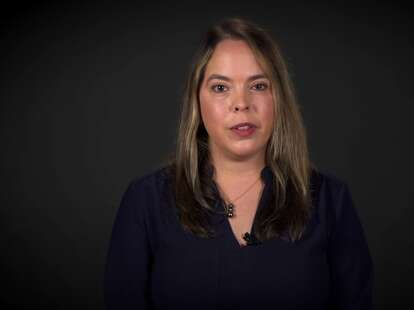 In a direct-to-cam video, Olivia Troye, a former member of the White House coronavirus task force, condemned President Trump's response to the pandemic.

| Republican Voters Against Trump
In a direct-to-cam video, Olivia Troye, a former member of the White House coronavirus task force, condemned President Trump's response to the pandemic.

| Republican Voters Against Trump
In a scathing ad released this week, a former member of the White House coronavirus task force condemned President Trump's response to the pandemic, which has killed more than 200,000 Americans.
In a direct-to-cam video, Olivia Troye, who this summer left her job as Vice President Mike Pence's homeland security adviser, said that amid a deadly virus outbreak, Trump's "biggest concern was that we were in an election year."
The ad was released Thursday by coalition Republican Voters Against Trump.
Troye described herself in the ad as a lifelong Republican who supported John McCain, a former presidential candidate, and former President George Bush, but she said she'll be voting for Democratic presidential candidate Joe Biden in this year's election.
In the video, Troye said the coronavirus task force, which was formed in January and led by Pence, knew about the imminent threat of the virus as early as February. Throughout the pandemic, several news reports and explosive leaked audio have revealed the president knew the severity of the virus early this year, before any cases were confirmed in the U.S.
And yet, Troye said, the president spread misinformation about the virus; she told The New Yorker that he was often more consumed with Fox News coverage. Trump has admitted as recently as last week to spending hours of his day watching Fox News.
"It was shocking to see the president saying the virus was a hoax, saying that everything was okay when we knew that it's not," she said in the ad. "The truth is that he doesn't actually care about anyone else but himself."
"If the president had taken this virus seriously, or if he had actually made an effort to tell how serious it was, he would have slowed the virus spread," she continued. "He would have saved lives."
Troye also recounted a meeting in which the president, whose germaphobia has been well-documented, expressed relief that he would possibly no longer have to shake hands with "disgusting people" at his rallies and other events.
Multiple White House officials have since released statements calling Troye a "disgruntled" former employee.
In a statement, Keith Kellogg, Pence's national security adviser, said: "Ms. Troye directly reported to me, and never once during her detail did she ever express any concern regarding the Administration's response to the Coronavirus to anyone in her chain of command." Pence also told reporters Thursday that Troye was "one more disgruntled employee who's left the White House and decided to play politics," CBS News reported.
Dr. Anthony Fauci, a prominent task force member, defended Troye in an interview with MSNBC, calling her "a good person" and an "important part" of the team.
While Troye is the first White House official who worked closely on the COVID-19 response to speak out against the president, she joins a lengthy list of ex-administration officials, including former National Security Adviser John Bolton, former Defense Secretary Jim Mattis, and former White House chief of staff John Kelly in blasting their former boss.
Compared to the other outspoken former staff members, the New Yorker's Susan Glasser noted that Troye had "much more to lose" and "much more courage than all of them."
While describing the White House gig as a "role of a lifetime," Troye said in the ad that the work experience was "awful" and "terrifying," and that she ultimately felt defeated.
"Because no matter how hard you work and what you do, the president is going to do something that is detrimental to keeping Americans safe, which is why you signed up for this role," she said.
She added: "I truly believe we are at a time of constitutional crisis. At this point, it's country over party."