Dr. Fauci's Security to Reportedly Ramp Up After Receiving Threats
Fauci said he feels safe and has "chosen this life" when asked about the threats in an interview with the "TODAY" show.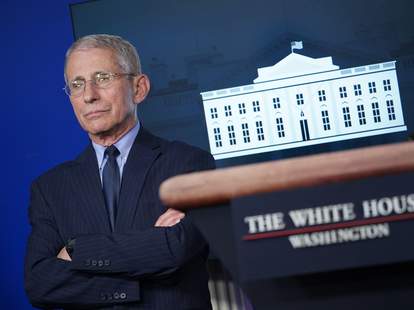 Dr. Anthony Fauci, a now-prominent figure in the U.S. response to the coronavirus crisis, has become the target of alleged online conspiracy theorists and unwelcome communications from "fervent admirers" to the point of requiring a ramped-up security team, according to the Washington Post. 
Fauci is an infectious disease expert and director of the National Institute of Allergy and Infectious Diseases. When asked Thursday about the alleged threats in an interview with the "TODAY" show, Fauci said that he feels safe. The Post did not specify the exact nature of the threats, but the U.S. Department of Health and Human Services has reportedly asked the U.S. Marshals Service to provide a group of agents for the doctor's protection, and a Justice Department official then authorized the security detail.
"I've chosen this life," Fauci said in the interview. "There are things about it that sometimes are disturbing, but you just focus on the job you have to do and just put all that other stuff aside... and just forge ahead." 
During one of the daily coronavirus task force briefings at the White House, Fauci deferred a question about alleged threats to the Health and Human Services Department's Office of Inspector General.
Fauci has been recognized for his delivery of facts during the daily briefings and his belief that any perceived "overreaction" by him about public health means he's doing his job. According to a New York Times report, he's become a target for Trump supporters on right-wing media sites for what they believe is an attempt to undermine the president.