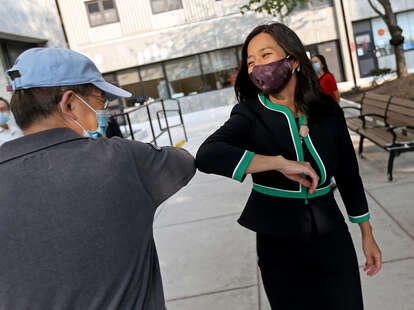 Boston City Councilor Michelle Wu, who is running for mayor, campaigns in Chinatown on September 16, 2020 in Boston, Massachusetts. (Staff Photo By Matt Stone/MediaNews Group/Boston Herald via Getty Images)
Boston City Councilor Michelle Wu, who is running for mayor, campaigns in Chinatown on September 16, 2020 in Boston, Massachusetts. (Staff Photo By Matt Stone/MediaNews Group/Boston Herald via Getty Images)
The ongoing COVID-19 pandemic has revealed many institutional weaknesses in countries around the world — especially those of the United States, the wealthiest country in the world, which has the highest number of confirmed cases and deaths.
While much of the pandemic's dire effects can be attributed to a failure in political leadership, it has highlighted the growing racial disparities in health care, employment opportunities, education, and access to food. Data has consistently shown Black and brown Americans have been more likely to die of, or experience complications from, the coronavirus — in addition to suffering more severe consequences economically.
As more and more Americans experience poverty in 2020, elected officials and activists across the country are calling attention to issues of food insecurity and food justice — a topic often overshadowed by other social and racial justice issues, including criminal legal and immigration reform. But food justice impacts Black and brown communities on a profound level, and experts emphasize that these policies are all connected.
"We are what we eat, but we eat what we can access and afford," says Michelle Wu, a 35-year-old Boston City Council member who announced in September that she's running for mayor in the 2021 election. "And the COVID-19 pandemic has shown just how vulnerable we are to corporatized food chains that abuse workers and the environment."
Wu is a millennial elected official in a major metropolitan city who has spent time this year calling attention to food justice while the chaos of national politics rages on. She released a plan Tuesday that she hopes is a "food policy framework to change the conversation about justice in cities across America and to help chart a course towards an equitable recovery from COVID-19."
Hunger is a nationwide problem in the U.S.
Democratic presidential nominee Joe Biden has been raising awareness of food insecurity in the U.S., calling on President Trump to address America's "hunger crisis." He held a virtual town hall with Chef José Andrés, founder of World Central Kitchen,, earlier this summer to discuss the issue and said Trump and Congress should pass the FEED Act, which is a bipartisan proposal that stands for FEMA Empowering Essential Deliveries.
On the Biden campaign website, his plan to address the hunger crisis notes that "Americans are lined up at food banks across the country."
"As a result of the economic fallout of the coronavirus crisis, made worse by President Trump's failure to act, it is projected that one in six American households will experience food insecurity by the end of this year," the website reads.
An October study by Columbia University found that the number of Americans living in poverty has grown by eight million since May. The New York Times reported that Columbia researchers found that the federal aid provided by the CARES Act "kept more than 18 million people from poverty" in May, "but by September," that number had fallen. While Congress passed the first round of COVID-19 relief in March, negotiators have yet to reach another deal, as millions of Americans remain unemployed.
"The CARES Act was unusually successful, but now it's gone, and a lot more people are poor," said Zachary Parolin to The Times, one of the researchers.
A food justice model for other cities
Boston has a high poverty rate of 20-21%, according to the Census Bureau, which is high especially compared to the national poverty rate, which has fluctuated between 10-15% over the past decade. According to Wu, some 18% of Boston residents experienced food insecurity from 2017 to 2019, and experts estimate that that rate has doubled during the pandemic.
"That's why in Boston we are reimagining food justice, from the roots up. It boils down to five core pillars," she wrote when announcing her new proposal.
Wu's five pillars are: "investing in Boston's food chain workers, supporting Boston's restaurant and food economy, expanding access to fresh food, leveraging public procurement to drive broader food system change, and strengthening food system coalitions to pursue a food justice agenda." She identified the focus areas after several meetings with food chain workers, small business owners and other stakeholders across the city. Wu also held a virtual town hall on the topic Tuesday evening to discuss "how cities like Boston can tailor policy solutions drawing inspiration from residents and activists" who have already been working on solutions, stressing the existing advocacy work.
Like many other millennial elected officials and activists, Wu is quick to point out the intersectionality of these problems: she says cities must financially support Black-owned and minority-owned restaurants and bodegas specifically, naming them as "critical food infrastructure for racial and economic justice."
Wu, who has served on the City Council since 2014, is the first Asian American and first Taiwanese American to serve as a councilmember in Boston. She became the first woman of color to serve as council president in 2016.
The Boston city councilor is also a protégé of Massachusetts Sen. Elizabeth Warren (D), who was her professor at Harvard Law School. Wu worked on Warren's 2012 Senate campaign and was a surrogate for the senator's presidential run. The two often focus on policy issues that seem wonkier than your average politician's soundbite, and that are incredibly important to achieving racial and social justice. During Warren's primary campaign, she rolled out an "agriculture reform agenda" and spoke often of "dignity for farmworkers," among many other laborers.
"Food injustice has deep roots in our nation's history of enslavement, displacement, and exploitation of people and land," Wu said this week. "The long-standing effects of centuries of injustice are seen in a food system that underpays its workers and prioritizes profits over health and sustainability."
During a pandemic, when people are increasingly aware of how directly local and state officials affect their everyday lives, Wu is hopeful about the future of local government.
"We face tremendous problems, and our local government can be a powerful force to shape a recovery that makes our communities stronger, healthier, and more resilient," Wu said.