This Sitting U.S. Senator Is The First To Share A Personal Experience With Abortion
Sen. Gary Peters shared a story about his ex-wife's abortion in the 1980s. He was motivated in part by Judge Amy Coney Barrett's confirmation hearings to join the Supreme Court.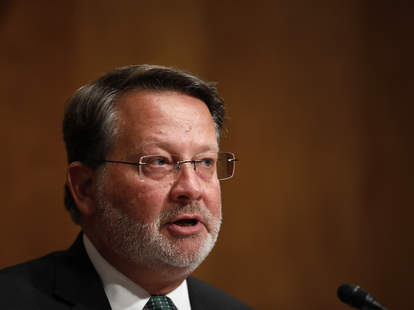 Sen. Gary Peters, who is running for reelection in the battleground state of Michigan, became the first sitting U.S. senator to share a personal experience with abortion. Sen. Peters (D) shared the story of him and his wife at the time, Heidi, who were expecting their second child, during an interview with ELLE Magazine published Monday.
"It's important for folks to understand that these things happen to folks every day," Peters told ELLE. "I've always considered myself pro-choice and believe women should be able to make these decisions themselves, but when you live it in real life, you realize the significant impact it can have on a family."
Peters is running against John James, a Republican who has been endorsed by anti-choice groups including the Susan B. Anthony List Candidate Fund. James, an Army veteran, has said he supports limiting abortion rights, overturning landmark Supreme Court case Roe v. Wade, and and opposing abortion in cases of rape or incest, MLive.com reported.
In the 1980s, Heidi's water broke four months into pregnancy. The fetus was left "without amniotic fluid—a condition it could not possibly survive," ELLE reported.
At a Detroit hospital that banned abortion, Heidi's doctor ordered her to go home and wait for a miscarriage to happen naturally.
After the miscarriage didn't happen, and Heidi's health declined for days — which she described in a statement as "painful and traumatic" — the doctor suggested they seek an abortion procedure elsewhere.
Peters told ELLE: "I still vividly remember he left a message on the answering machine saying, 'They refused to give me permission, not based on good medical practice, simply based on politics. I recommend you immediately find another physician who can do this procedure quickly.'"
Heidi underwent an emergency abortion at a different hospital that reportedly preserved her uterus and "possibly her life." She said in a statement: "If it weren't for urgent and critical medical care, I could have lost my life."
 
Sen. Peters called the experience emblematic of "how gut-wrenching and complicated decisions can be related to reproductive health."
My story is one that's tragically shared by so many Americans.

It's a story of gut-wrenching and complicated decisions — but it's important for folks to understand families face these situations every day.https://t.co/VA3VDbjWrO

— Gary Peters (@GaryPeters) October 12, 2020
Unlike the Senate, multiple U.S. House members have previously shared that they have had abortions. As ELLE reported, those Congressional members are California Reps. Barbara Lee and Jackie Speier and Rep. Pramila Jayapal of Washington.
 
Peters said he was in part motivated to speak about the experience as Supreme Court nominee Amy Coney Barrett, who has a record of ruling against abortion rights, appears at Senate Judiciary Committee hearings this week. In 2006, Barrett signed an ad that called Roe. v Wade "barbaric" and advocated for abortion rights to be overturned. During a Tuesday hearing, Barrett refused to state how she would act on Roe v. Wade if she were to be on the Court.
"The new Supreme Court nominee could make a decision that will have major ramifications for reproductive health for women for decades to come," Peters said. This is a pivotal moment for reproductive freedom."