Georgia's Chaotic Primary Renews Claims Of Voter Suppression
Activists, celebrities, and prominent politicians pointed out that the malfunctioning voting systems disproportionately affected the state's Black voters and "under-resourced communities."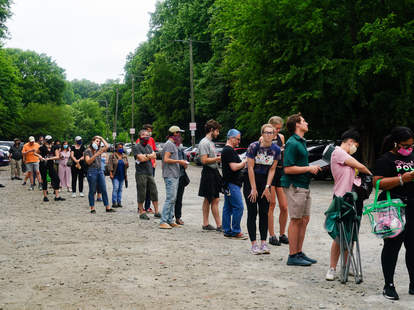 Getty Images/People wait in line to vote in Georgia's Primary Election on June 9
While facing a wave of criticism after the state's primaries were plagued by broken voting machines and long lines, which many claimed impacted mostly "under-resourced communities" and Black voters, Georgia's secretary of state has vowed to open an investigation.
After Georgia's primary began on Tuesday, voters, polling staff, and lawmakers began reporting problems at polling locations, causing long lines and hours of waiting. Politicians, activists, and celebrities, including Sen. Kamala Harris (D-CA), observed that the malfunctioning voting systems disproportionately affected Black voters in the state, amid nationwide demonstrations against systemic racism in the U.S.
"This seems to be happening throughout Atlanta and perhaps throughout the county," Atlanta Mayor Keisha Lance Bottoms tweeted at nearly 8 a.m. local time on Tuesday, regarding reports of faulty voting machines. "People have been in line since before 7:00 am this morning."
Some voters cast their ballots hours after polling locations were supposed to close, with some of the most determined people waiting past midnight to vote.
The chaotic primary election, which had been postponed because of the coronavirus outbreak, has renewed claims of voter suppression in the state.
Former gubernatorial candidate Stacey Abrams, who voted in person on Tuesday because of "absentee ballot defects," tweeted that the defective machines and long lines were hurting "under-resourced communities," citing the city of Jasper as well as Chatham and Fulton counties. Abrams lost the 2018 Georgia gubernatorial election to Brian Kemp, who was a sitting Secretary of State at the time. Kemp's victory led to an investigation into potential voter suppression, and whether he had a conflict of interest administering an election in which he was a candidate.
Some experts also blamed Secretary of State Brad Raffensperger for the voting system failure in Georgia.
Lauren Groh-Wargo, CEO of voting rights group Fair Fight, which was launched by Abrams, said Raffensperger "chose to move unfunded mandates and massive quantities of mail through counties, rather than ensuring uniformity across the state through the proper resourcing of elections centrally via the state."
Raffensperger, who reportedly blamed the voting problems on county officials, said that he would open an investigation into counties' election processes.
"The voting situation today in certain precincts in Fulton and DeKalb counties is unacceptable," he said. "My office has opened an investigation to determine what these counties need to do to resolve these issues before November's election."
Following a federal ruling last year that required Georgia to phase out paperless voting by 2020, the state adopted a new voting system. That system involved purchasing new machines as part of a contract with Denver-based Dominion Voting Systems, according to a New York Times report.
Raffensperger claimed there was "going to be a learning curve" with the new voting system, especially during the coronavirus outbreak. Many celebrities and activists on Twitter have called out Georgia's leadership, including Kemp, for the faulty systems, which they say could also impact the consequential general elections in November.