GOP Rep Rips GOP Senator For Not Paying Attention During Trump Impeachment Trial
Rep. Adam Kinzinger (R-IL) is fed up with the Trumpists in his party, and calling out Sen. Josh Hawley (R-MO), the man who held a fist up in solidarity with the insurrectionists.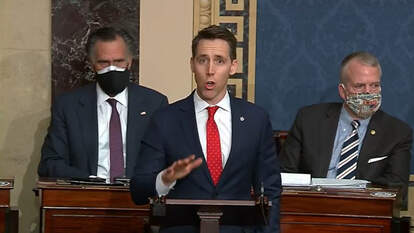 A Republican representative is calling out a senator from his own party over his role in the violent insurrection at the U.S. Capitol on January 6 — and for not paying attention to the new visual evidence presented during former President Donald Trump's second impeachment trial.
Rep. Adam Kinzinger (R-IL), who voted to impeach Trump and supports conviction, on Wednesday criticized Sen. Josh Hawley (R-MO) for attempting to overturn the 2020 election results and for reports that he is paying "half-hearted attention" during the trial where he serves as a juror.
The Illinois lawmaker also confirmed Wednesday the "tragic fact" that fearing violence on that day because of Trump's previous calls to action, he brought a firearm with him to the Capitol and warned his staff to stay home.
Sen. Hawley is considered perhaps the leader of the small group of GOP senators who voted against certifying the Electoral College results in a breathtakingly anti-democratic move. Despite the ensuing criticism about his high-profile role in the Capitol riot and the days leading up to it, he is also one of a handful of senators who have been observed as less-than-attentive while House impeachment managers build their case for prosecuting Trump.
Hawley "watched the day two arguments from the visitor's gallery above the Senate floor with his feet propped up on the seat in front of him, reading papers in unmarked manila folders," The Hill and other outlets reported.
On the first day of the trial, The Washington Post reported that other GOP senators looked away from a disturbing but compelling 13-minute eyewitness video of the riot played by impeachment managers.
Rep. Kinzinger was one of ten Republicans in the House who voted to impeach Trump, along with Rep. Liz Cheney (R-WY), who is the third-highest-ranking official in the GOP. Cheney faced — and survived — a leadership challenge over her vote against Trump.
After casting his vote, Kinzinger said he was "at peace."
Kinzinger's comments condemning Trump on video on Jan. 6 were played during day three of the Senate trial on Thursday, as part of a montage of multiple GOP officials, including former members of his own Cabinet, who criticized Trump for inciting the violent mob. Several Cabinet members resigned over it.
"The prosecution is compelling. Donald Trump incited and directed the insurrection. He knew what he was doing. I cannot imagine how any Senator could vote against removal," Kinzinger tweeted Wednesday.
On February 8, just before the Senate trial started, Kinzinger wrote in a Washington Post op-ed that "convicting Trump is necessary to save America."
"Many Republicans refuse to admit what happened. They continue to feed anger and resentment among the people," he wrote. "On Jan. 6, that fury led to the murder of a Capitol Police officer and the deaths of four other Americans. If that rage is still building, where does it go from here?"
Kinzinger isn't the only one criticizing Hawley. The Missouri senator's home state paper The Kansas City Star has said in an editorial that he has "blood on his hands" after the deadly riot.
The KC Star editorial board wrote, "No one other than President Donald Trump himself is more responsible for Wednesday's coup attempt at the U.S. Capitol than one Joshua David Hawley, the 41-year-old junior senator from Missouri, who put out a fundraising appeal while the siege was underway." Sen. Ted Cruz (R-TX), who also led efforts to object to the certification, also fundraised off of his anti-democratic efforts.
On Wednesday, the second day of the Senate trial, The St. Louis Post-Dispatch editorial board wrote that Hawley continues to bring "embarrassment" to his state by "refusing to see Trump's guilt" and "flirt[ing] with the abolition of democracy in favor of keeping a dictator wannabe in the White House."
If Hawley votes to acquit Trump, which seems likely, he could deepen a rift in his party in both the Senate and the House, between himself and his colleagues — especially after new Capitol security footage revealed at the trial showed how close Sen. Mitt Romney (R-UT) came to the angry mob, saved by Capitol police officer Eugene Goodman who led him in another direction.
A vote for acquittal will also embolden Kinzinger and others to continue to organize against Hawley. The Illinois lawmaker has launched a super PAC to take on Trumpists in his own party, telling The Washington Post that he has a "huge list" of Republicans he wants to see challenged in the 2022 midterms.
While speaking of House Reps. Marjorie Taylor Greene (R-GA) and Matt Gaetz (R-FL), both Trump loyalists, Kinzinger said, "I think neither of them believe the stuff they ascribe to. They just want fame. And so, then you have to look at all that stuff and say, okay, can they [be] defeated? Who are opponents that can actually run against them? ... I just want you [a candidate] to tell the American people the truth, and I want you to not peddle in conspiracies and use some optimism occasionally. That's a pretty low bar, but it's a low bar that eliminates a lot of people."