Here's What Actually Happened With AOC Nominating Bernie Sanders At The DNC
This is just how the official nominating process for presidential candidates works.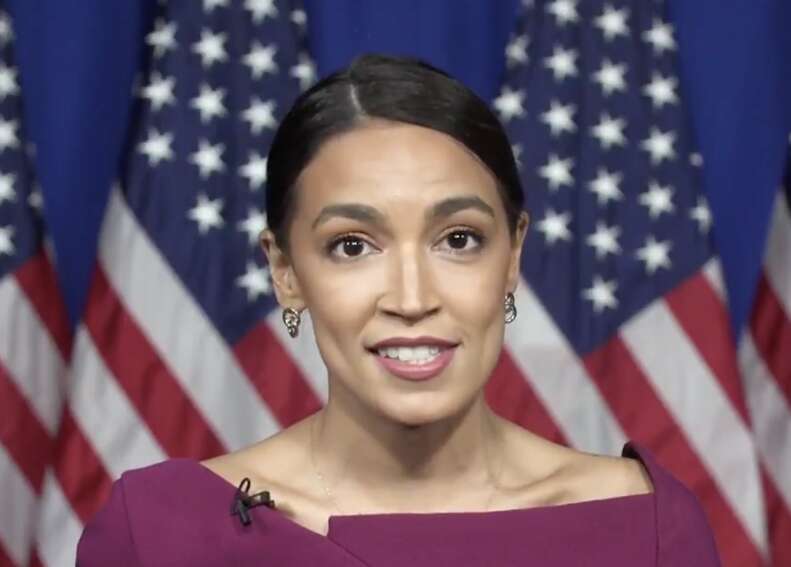 No, AOC didn't make a surprise endorsement of Bernie Sanders over Joe Biden at the Democratic National Convention. That's just how the official nominating process for presidential candidates works.
Here's what happened:
Rep. Alexandria Ocasio-Cortez (D-NY) had a 90-second slot at the DNC Tuesday night as a delegate for Sen. Bernie Sanders, the runner-up in the Democratic primary.
According to official convention rules, the roll call of states features nominating speeches for every candidate that passes a certain threshold for earned delegates. By the time Sanders dropped out of the Democratic primary in March, he had earned 1,073 delegates. Former Vice President Joe Biden clinched the nomination when he earned 1,991 delegates by winning primary and caucus contests, the "magic number" according to primary rules. (Biden actually exceeded that number, earning a total of 2,687 delegates by the end of the primary.)
The candidate with the third-highest number of delegates was Sen. Elizabeth Warren with 63. A DNC aide explained to NBC News "anyone who has 300 delegates going into convention can put their name in for nomination." By the time each state and territory finished announcing their delegate pledges on Tuesday night, Biden had 3,558 delegates, and Sanders had 1,151.
As AOC herself explained on Twitter after her short speech, she was asked to second the nomination for Sanders in the roll call. Bob King, the former president of the United Auto Workers Union, gave the first nominating speech for Sanders.
"If you were confused, no worries!" AOC tweeted. "I extend my deepest congratulations to Joe Biden — let's go win in November."
In her speech, the congresswoman called out the need to "recognize and repair the wounds of racial injustice, colonization, misogyny, and homophobia."
Sanders spoke Monday night at the DNC with a very clear endorsement of Biden for president, saying "the future of our democracy is at stake."
Biden was officially nominated as the Democratic presidential candidate Tuesday night as the roll call of states and territories concluded. His first nominating speech was given by Jacquelyn Brittany, a security guard who works at the New York Times who met Biden when he visited the office and was captured in a feel-good moment on video telling him, "I love you!"
Sen. Chris Coons and Rep. Lisa Blunt Rochester of Biden's home state of Delaware gave the second nominating speech for Biden.